Thanks for checking out my Cobra Radspeed driver vs LTDx driver comparison.
I'm an avid golfer, a 9.2 handicap on my way to a 2 (been a 5.6) and frequent tester of golf clubs and equipment since 2015.
I played two rounds of golf and spent two range sessions with the RadSpeed and LTDx. I recorded stats with my Swing Caddie SC 300 & SC200 launch monitors. (I was also testing Ping G410 and Ping G425 irons) My driver swing is a little wild these days, but one of these drivers tamed it better than the other.
In this comparison of the Cobra Radspeed and LTDx drivers, I discuss my experience with each driver, unique features and benefits, and my pick for which driver I'd buy.
Cobra LTDx Driver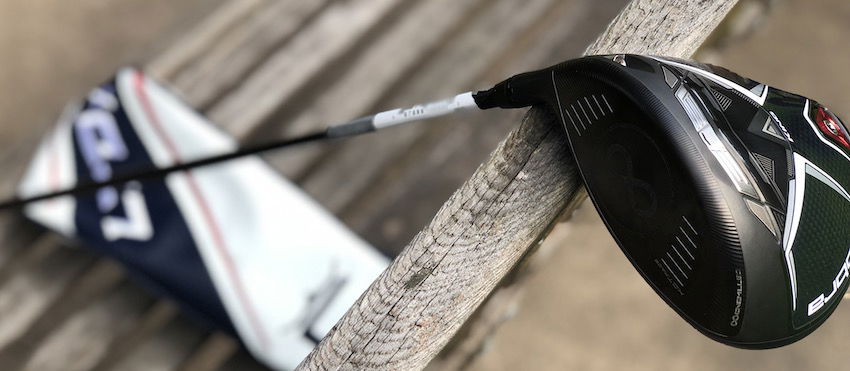 LTDx (Longest Total Distance) drivers are new for 2022. Cobra calls them "The Ultimate Distance Machine" and says they deliver "longest total distance". But, they're not finished. They also use words like "extreme forgiveness" in describing this driver. Basically, there's nothing it can't do. They're not exactly underpromising here.
They offer three models:
1) LTDx
Low spin
Medium launch
High Forgiveness
2) LTDx LS
Low spin
Low launch
Medium forgiveness
3) LTDx Max
Low-medium spin
High launch
Extreme forgiveness
Read full review for more details
Cobra Radspeed Driver
RadSpeed drivers were released in 2021. They were Cobra's lowest spinning and most forgiving driver line at that point. They are supposed to deliver "radical" ball speed. Thus, the name "RadSpeed".
They offer 3 RadSpeed models:
1) RadSpeed (the one in this test)
Ultra-low spin
Lowest launch
Fastest ball speed and most workable
2) Radspeed XD (Extreme Draw)
Mid spin
Mid to high launch
Draw bias for straightest drives
3) Radspeed XB (Extreme Back Weight)
Low spin
Highest launch
Longest and most forgiving
Read full review for more details
Testing the RadSpeed & LTDx Drivers
2 Range Sessions: About 12 drives with each driver after a good warm up and hitting short irons in between. Too many driver swings in a row and I get ALL out of sync.  
Drives were measured with my Swing Caddie SC300 and SC200. I only used both because I let a friend borrow the SC300 and I didn't have it for one of the sessions.
2 Rounds on the course: I played two 18-hole rounds at my course (Longwood) spaced a day apart. (Shot 81 and 82). I played 1 driver per 9 both times and I started with the RadSpeed on the front.
Part of the difference in how they performed may be that my driver swing doesn't get going well until the back 9. This may warrant a 3rd round.
My impressions of the LTDx and RadSpeed
Looks
Head shape: Similar, but the LTDx has a deeper crown (front to back). They both frame the ball well at address. I was comfortable and confident looking down at both.
Color:
Radspeed – I ordered the Peacote, which is red, white, and blue. All colors have a mat finish, of which I'm a fan. The crown is the mat blue and minimal graphics and looks amazing. The sole has all three colors and decent graphics.
LTDx – It has the same colors as the Radspeed, but with a shiny finish and carbon fiber weave showing on the crown. Graphics on the sole are no bueno.
Winner: Radspeed
Sound/Feel
Identical. Solid and muted. Impact feels great most anywhere on the face you make contact. Sound and feel were exceptional for both.
Winner: Draw
Playability/Ball Flight
I give the edge to the LTDx.
My well-struck shots were a tight draw with both drivers and slight misses ended up as playable pushes or push-fades. I easily hit my normal medium-high ball flight with the LTDx, but not so much with the Radspeed.
I had to swing better and work harder to get my normal trajectory with the Radspeed. The Radspeed XB is a MUCH better fit for me. And, a different shaft may have made a difference too. (This is why you test before you buy)
Winner: LTDx
Forgiveness
First, these are both forgiving drivers.
I'm a streaky driver and I didn't have my best stuff. I found the LTDx more forgiving and left me in better position for my second shots with my good swings and my marginal swings.
I may have skewed the testing by always playing the Radspeed on the front nine, which I usually spend finding my driver swing.
Winner: LTDx
Distance
Equal on carry distance, but the Radspeed did to roll out a fraction more according to my launch monitor. Not nearly enough to matter, in my opinion.
Winner: Draw
| DAY 1 | Carry Yards | Ball Speed | Swing Speed | Smash Factor |
| --- | --- | --- | --- | --- |
| LTDx | 266 | 154.5 | 106.5 | 1.45 |
| Radspeed | 267 | 155 | 107 | 1.45 |
| DAY 2 | Total Yards | Ball Speed | Swing Speed | Smash Factor |
| --- | --- | --- | --- | --- |
| LTDx | 291.6 | 157.6 | 104 | 1.51 |
| Radspeed | 294.6 | 158 | 104.1 | 1.52 |
Conclusion of Cobra Radspeed driver vs LTDx
The LTDx is a better driver for me and for most mediocre drivers, I suspect.
It was more forgiving, got the ball up easier, and kept me in good position on the course more often.
My #1 suggestion is to test both clubs before you buy. Either at your local golf store or take advantage of Global Golf's Utry trial program. I use it and recommend it.
Remember, each driver has 3 head variations. This test involved 1.
The LTDx was easier to hit higher and kept me in better position for my second shots. Does this sound like something you might want? Give the LTDx a try.
Pros:

Long & Forgiving

Keeps you in play

Pros:

Great - Sound, Distance & Feel

Pros:

Long & Forgiving

Great Sound & Feel

Best Value

Cons:

Not as forgiving

Hard to hit medium-high to high trajectory

Description:

New & Used clubs available

Get 8%off from Global Golf with Code: GolferGeek

Description:

New & Used clubs available

Get 8%off from Global Golf with Code: GolferGeek

Description:

New & Used clubs available

Get 8%off from Global Golf with Code: GolferGeek
Winner
Pros:
Long & Forgiving

Keeps you in play
Description:
New & Used clubs available
Get 8%off from Global Golf with Code: GolferGeek
Golfer Geeks Approved
Pros:
Great - Sound, Distance & Feel
Cons:
Not as forgiving

Hard to hit medium-high to high trajectory
Description:
New & Used clubs available
Get 8%off from Global Golf with Code: GolferGeek
Best Alternative
Pros:
Long & Forgiving

Great Sound & Feel

Best Value
Description:
New & Used clubs available
Get 8%off from Global Golf with Code: GolferGeek