This is my review of the best golf gloves on the market in 2023.
I've played golf in hot and humid weather my whole life (first in southeast Louisiana, and now in Houston) and my hands probably sweat a little more than the average bear. I know a thing or three about which golf gloves to buy and how to take care of them.
I've played every glove on this page in the last year.
In this best golf gloves review, I discuss the benefits and features of each, my experience with each, and my recommendations.
Our #1 Recommendation for 2023: Callaway 2022 Tour Authentic
Editor's Pick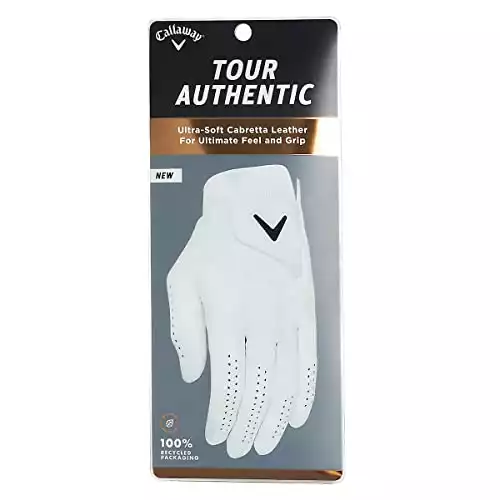 Rest of the Best Golf Gloves in 2023
Pros:

Exceptional Sweat/Moisture Protection

Freakishly Durable

Good Feel

Great Value

Pros:

Excellent Fit & Feel

Excellent Durability

Premium Quality Soft Cabretta Leather

Great Value

Pros:

Top Quality Cabretta Leather

Superior Softness & Feel

Excellent Fit

Flexes Perfectly for Max Comfort

Pros:

Excellent Fit & Feel

Premium Quality Soft Cabretta Leather

Flexes for Added Comfort

Great Value

Pros:

Good Fit & Feel

Good Sweat/Moisture Protection

Good durability

Pros:

Good quality Cabretta leather

Good fit and feel

Great Value
Best Golf Gloves Reviewed
1) Callaway Tour Authentic Golf Glove (Editor's Pick)
Editor's Pick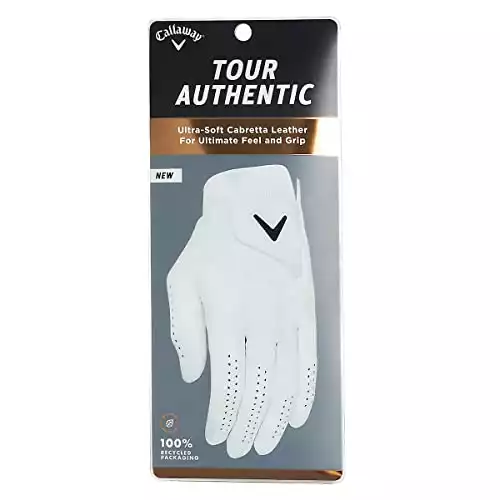 The Callaway Tour Authentic is our new #1 Pick for best golf glove (and is my new favorite) for a few reasons.
Excellent fit & feel.
Premium quality Cabretta construction.
Best Durability – Retains fit and feel.
Incredible value.
The Callaway Tour Authentic is new to us for 2023 (it came out in 2022). It fits and feels almost exactly the same as the Titleist Perma – Soft.
It lacks the mesh fabric across the knuckles of the StaSof and Perma – Soft. (I think this helps the glove flex more with my grip)
It fits a little snugly at first but breaks in quickly for a perfect fit.
It's a great quality glove at a more than reasonable price.
Recommendation: Excellent premium Cabretta leather glove and the most durable we've tested at a very reasonable price.
---
2) FootJoy StaSof Golf Glove
Editor's Pick - Best Golf Glove
The FootJoy StaSof is highly recommended for best golf glove for a few reasons.
Best-in-Class fit and feel.
Premium quality materials.
Flexes with your hand for maximum comfort throughout your swing.
Yes, yes it cost a bit more and you can (and I do) certainly get by with cheaper (less expensive) gloves.
But…the Footjoy StaSof stands out in side-by-side comparisons to other excellent golf gloves we tested.
Honestly, I had forgotten how good they were. So, I bought a couple to remind me.
Recommendation: Best golf glove we've tested at a comparable price. Not a bad idea to have one or two on hand.
---
3) Titleist Perma – Soft Golf Glove (Runner Up)
Highly Recommended
The Titleist Perma-Soft makes our list of best golf gloves for a few reasons.
Excellent fit & feel.
Premium quality Cabretta construction.
Flexes with your hand for added comfort throughout the swing.
The Perma-Soft is a close second to the Footjoy StaSof. I wear medium golf gloves and the Perma-Soft fits tighter than the StaSof out of the package. Though, it does stretch to fit nicely after wearing a few times.
I've been playing one for a couple months now and it's held up nicely.
Recommendation: Excellent premium Cabretta leather glove at a very reasonable price.
---
4) FootJoy TropiCool Golf Glove
Best for Hot Weather & Sweaty Hands
I did NOT expect to like this glove…at ALL.
But, the Footjoy TropiCool is the best glove for sweaty hands and hot weather. And, it's not close.
My experience with non-cabretta gloves had been universally bad since I started playing golf many moons ago.
They generally feel terrible – are ill fitting – fall apart in a couple rounds.
The TropiCool glove
Fits well
Keeps it's shape
Does not get slick with sweat, humidity, or oil from my skin
The TropiCool glove has no Cabretta in sight and I still like it. Wow! It's largely constructed of a fiber material called "Nanotech." It's breathable and helps keep my grip dry.
I've practiced EXTENSIVELY in this Houston summer heat wave and hit hundreds and hundreds of shots using the ONE Tropicool glove I've had since April (it's now July ONE YEAR LATER). It stands up…to say the least.
I'm still on the SAME glove for a year and a half and I've hit the range a LOT since April doing club testing.
It will get slick at some point, but it takes work to get there. Do you practice or play in sub-tropical heat? Get this glove. Trust me.
This is the best golf glove for sweaty hands, period.
Top Tip: You may want to order a smaller size (cadet medium vs. medium for example) I accidentally ordered cadet-medium and it fit much tighter than I'm used to. The glove now fits awesome. Use this Footjoy fitting guide if you have questions.
Recommendation: I was skeptical. Now I'm a believer. If standing up to hot weather and sweaty hands is your #1 priority, this is the glove.
---
5) Under Armour Iso-chill Golf Glove
Golfer Geeks Approved
I Do Not Understand The 4.2 out of 5 Amazon Rating! I LOVE this glove
I am very pleasantly surprised by the quality of the Under Armour Iso-Chill glove and how well it prevents my hands from sweating, or at least doesn't get slick.
My experience with hybrid material gloves is not the best, to say the least.
I've hit hundreds of shots with the Iso-Chill and it still feels and looks great.
Most of the glove is made of cabretta leather, including the palm. It has a polyester material at the stretch points of the knuckles.
Recommendation: Great glove. I love it and will buy it again. At about $14, I say it's at least worth a try for you.
---
5) Kirkland Signature Premium Cabretta Golf Glove
Best Value
Get these Kirkland gloves if you want the feel and performance of Cabretta leather gloves for less than crappy synthetic gloves cost.
There are 4 in a pack, which comes out to just over $8 bucks a pop.
No, they're not the best Cabretta gloves out there, but they are plenty good.
I bought these gloves thinking they'd be decent for practice and maybe get a few rounds out of them. Let me tell you, I was very happily surprised.
They fit well. They're made of good Cabretta (guess that's a real word) leather. And, they're durable.
This is an especially good deal if you follow my "switch your gloves out after every shot" policy mentioned below in my "glove care" section.
Recommendation: These gloves should be part of your arsenal to combat hot weather and sweaty hands. Especially if you like to practice.
---
FAQs
How do I pick the best golf gloves for me?
The best golf glove for you will depend on a few things
Personal preference
How sweaty do your hands get– You may be able to get away with a non-cabretta leather glove (cheaper). I can't.
Budget– Premium cabretta leather gloves can top $30. And, if your hands sweat a lot, you are going to need 2 or 3 gloves to switch out during a round. It can add up. Fear not, there are always sales so you can stock up
How often do you play and/or practice
Weather conditions in which you normally play
Personal preference: I have friends who can't stand the feeling of the seem of the gloves against their skin, especially their thumb. Annoys me too, sometimes, but not enough to not wear a glove.
I also have friends that wear gloves that don't exactly fit them well and they have no issues. Or, at least don't complain about it. Not I.
I can NOT STAND an ill-fitting glove. It's like an itch I can't scratch. I can't get comfortable with my grip on the club and everything gets worse from there. So, I get good cabretta leather gloves and take care of them.
Sweaty hands: My hands likely sweat more than most. So, I've found that Cabretta leather gloves best serve me. Both from a feel and longevity standpoint. I've tried synthetic gloves on many occasions and found they lose their form quickly and/or simply tear and become unusable. 
Budget: Premium Cabretta leather gloves top $30. If you play a lot AND have sweaty hands, the bill can start to add up. (Especially considering you should be rotating gloves) I almost never pay top dollar for my gloves. I'm forever on the search for deals and then I stock up. 
How often do you play and/or practice?: Simple. The more you do of ether, the more gloves you will need.
Conditions you normally play in: Hot and humid weather requires better gloves and more of them, in my experience.
Check out a few manufacturers and glove types. You can afford to test gloves. Even expensive ones aren't that expensive.
How do you make your gloves last? My best tips for golf glove preservation
During your round
Bring 2-3 gloves. I'm always rotating 3. I can get away with 2 in cool-to-cold weather. 
Don't put your glove on until you are about to hit. More time away from your skin is better.
Take it off immediately after you hit. See above
Switch gloves between every shot. I try not to let too much sweat build up in/on the glove.
Hang gloves on the frame of the golf cart when riding. Let the air and wind dry them between uses. Hang on your golf bag if your are walking
During practice
I use gloves dedicated to practice, alone.
Again, bring 2-3 gloves. I don't switch after every shot when I practice because this would REALLY drag out my practice.
I use one glove until my grip starts to slip a little.
I then hang it up on one of my alignment sticks in my bag and grab another glove.
Do this with 3 gloves and you'll have a pretty decent system for always having a mostly dry and tacky glove to use.
Golf Glove Maintenance
Yes, there is such a thing for we of the sweaty hand.
If my gloves get particularly soaked with sweat during a round or practice session I will rinse them thoroughly under water in an attempt to get as much of the salt from my sweat and oils from my skin out of them.
I dry them as best I can by compressing them between a towel, then I make sure the glove is spread out (not crumpled) and laid out to dry. This has worked very well for me over the years and I encourage you to do the same.
Verdict: The Best Golf Gloves on the Market in 2022
Our #1 recommendation for the best golf glove is the Callaway Tour Authentic.
Our #1 recommendation for hot weather and sweaty hands is the Footjoy TropiCool.
As always with our lists: We don't believe you can go wrong with any of the choices presented here. Golf gloves are cheap enough for you to try any and all of them and see which you prefer.
Thanks for checking out our reviews of the best golf gloves in 2023
I hope whichever one(s) you choose works as well for you as they all did for me.
Editor's Pick