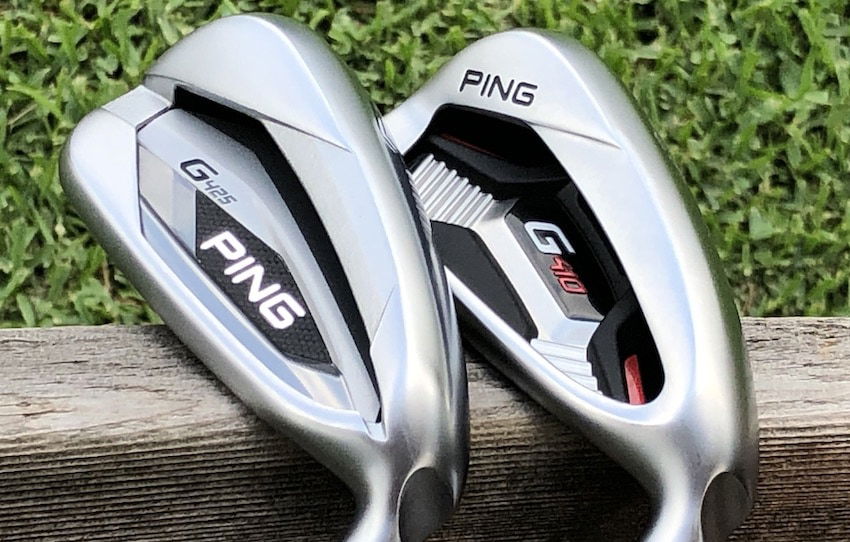 This is Golfer Geeks' comparison of the Ping G410 irons vs G425 irons.
I'm an avid golfer, a 9.2 handicap on my way to a 2 (been a 5.6) and frequent tester of golf clubs and equipment since 2015.
I tested the Ping G410 and G425 irons during two range sessions and I played 1 round of golf with the G425s.
Summary: I find the G410 and G425 irons performed virtually identical for me. They are VERY easy to hit and hit well. They are long, get the ball up easily, carry a long way, and land soft. I hit my baby draw all day long and flighted them down whenever I wanted. The clubheads look generous, but not goofy. Any mid or high handicapper should be able to look down at them at address with complete confidence.
They need to be on your radar if you're in the market for game improvement irons.
Let's take a look at what sets these clubs apart. (if anything)
Ping G410 irons are mid-handicap irons and were released 2 years ago. Ping says they "took game improvement technology and reshaped it" with the 410s. They reduced offset and blade length (8% less than G400s) yet maintained MOI (think forgiveness and distance) They are made to launch high, carry far, and hold greens.
The heads are smaller, but remain plenty generous. Forgiveness is what comes to mind when looking down at them. But, they are performers too.
Ping G425 irons are also mid-handicap irons and were released January of 2021. They took everything they did with the G410s and did a little more. The blade length is a little shorter than the G410s.
Again, smaller clubheads don't mean small. They look plenty forgiving and perform like beasts on the course and on the range. 
Ping G410 Features & Benefits
1) Larger Flexing Zone
Ping says the face freely moves which increases ball speed but are still precise
2) Clean Look, High MOI
Ping reduced blade length and offset, but maintained high MOI for forgiveness and more speed on more of the face
3) Toe/Hosel Weighting
Weight saved from reducing clubhead size was moved to the toe and hosel to increase MOI by 8% over the G400s for greater forgiveness and consistency
4) Co-molded Cavity Badge
An aluminum and elastomer badge in the cavity dampens vibration for better feel and sound (I can attest to this)
Ping G410 Iron Specs
Shaft: Ping AWT 2.0 Steel Stiff Flex
4-PW, AW Iron Set Men Right Hand, Black Dot Standard
Ping G425 Features & Benefits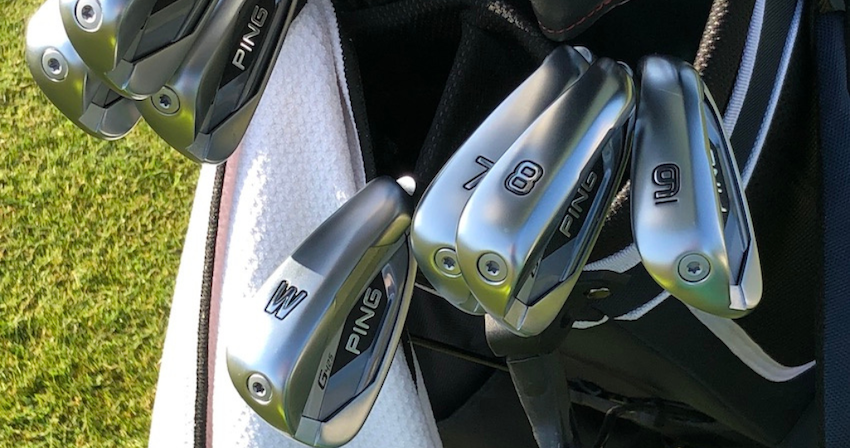 1) Variable Face Thickness
Ping uses 17-4 stainless steel and borrowed from metal wood technology to create a clubface to launch your golf ball higher, send it farther, and hold greens.
2) Expanded Perimeter weighting
Ping added tungsten weights to the toe and hosel of the shaft to allow for increased perimeter weighting for increased MOI.
3) Face Hinging & Flexing
Pings cascading sole and undercut top rail perform like a hinge to flex, which launches the ball faster and higher with better stopping power.
4) Multi-material badge
The 3-piece badge in the cavity produces better feel and sound.
Ping G425 Irons Specs
Shaft: Ping AWT 2.0 Steel Stiff Flex
4-PW Iron Set Men Right Hand, Black Dot Standard
Testing the Ping G410 & Ping G425 irons
2 Range Sessions: I split 2 to 2.5 buckets each day and mixed in drives with the Cobra LTDx and Cobra Radspeed drivers. My iron swing was good to go, so I had a lot of fun. I had them on my launch monitors for a few shots to gauge distance differences. 
1 Round of golf (with G425s): I could find no difference in performance or feel between these clubs on the range, so I figured 1 round with either would be sufficient testing.
The G425 (and G410) lofts are much stronger than my Hogan's once you get to 8-iron and lower. So, I took less club when I got to the appropriate yardage. (G425 8-iron = Hogan 7-iron and so on). I shot an 82 following this method and nocked down many a pin with beautiful high 3-yd draws. 
Don't sleep on the long irons either. Crazy easy to hit.
My impressions of the G425 and G410 irons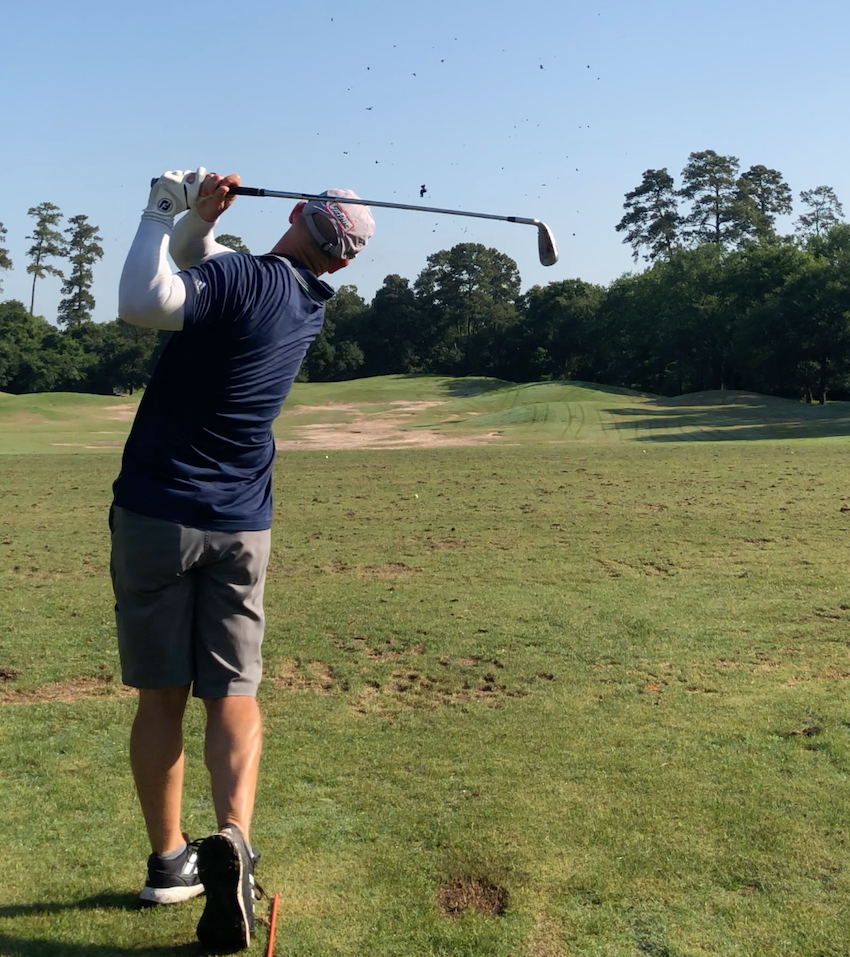 Looks
I prefer the color combo of the G425s. Looks a little more "player". Both clubheads appear large to me, but are well in line with game improvement iron size.
The topline and sole are a smidge thicker in the 410s. The obvious visual differences are in the cavity insert and other minor design elements in the cavity and perimeter.
I know the G425s are smaller, but not a lot. Offset, loft, and shaft length are identical. 
Winner – G425s
Sound/Feel
Identical. Muted and solid at impact. Exactly the way I like it. Liked them both right away. Not nearly as harsh feeling as the i59s and i525s.
Winner – Draw
Shaping/Flighting
Both irons want to go high and straight. But, you can play shots with them too. I've read a few reviews where golfers said these irons can't be curved more than a couple yards. Untrue in my experience.
I don't hit fades, but I DO hit draws and I had zero problems overdrawing from time to time. I flighted a few shots just to see too. No problem at all. 
Winner – Draw
Distance
Both irons are long. Yes, they have jacked lofts once you get to the 8-irons. But, I think they'd be on the longer side anyway.
Winner – Draw
Verdict on Ping G425 irons vs G410 Irons
They performed equally well for me. I Much prefer the looks of the g425 irons, so I'd choose them.
These are both great mid-handicap irons (probably good for high handicappers too).
Go check out the reviews at pinggolf.com. A LOT of low handicaps play the G425s and G410s. 
My #1 suggestion is to test before you buy. Either at your local golf store or take advantage of Global Golf's Utry trial program. I use it and recommend it.
Thanks for checking out my comparison of the Ping G410 irons vs G425 irons. Let me know which ones you chose and how they work for you.
Pros:

So... so easy to hit

High trajectory

Great distance & forgiveness

Pros:

Easy to hit and elevate

Good trajectory & playability

Excellent distance & forgiveness

Cons:

Nothing - you need to try them

Description:

New & Used clubs available

For up to 25% OFF at Global Golf - Check Current Deals

Description:

New & Used clubs available

For up to 25% OFF at Global Golf - Check Current Deals
Editor's Pick
Pros:
So... so easy to hit

High trajectory

Great distance & forgiveness
Cons:
Nothing - you need to try them
Description:
New & Used clubs available
For up to 25% OFF at Global Golf - Check Current Deals
Excellent Mid Handicap Irons
Pros:
Easy to hit and elevate

Good trajectory & playability

Excellent distance & forgiveness
Description:
New & Used clubs available
For up to 25% OFF at Global Golf - Check Current Deals