Welcome to our best golf putting aids review. Updated for 2023.
Putting can be the great equalizer for average golfers, but it's where we spend the least time…Shame. Every stroke saved on the putting green comes right off the bottom line.
Fewer putts = Lower scores
You know of some of the golf putting training aids on my list, but I will introduce you to a couple you likely haven't heard of.
All the putting aids here work well and are worth your attention.
Different putting aids help you with different parts of your putting game. The image above shows my favorite combination.
Our Top 3 Recommendations
Pros:

Premium-quality mat

App with over 50 games included

Lifetime Guarantee (Refund or Exchange)

30-Day Risk-Free Guarantee

Pros:

Dial in Distance Control & Touch

Builds consistent stroke

Use at home or at the course

Lifetime Guarantee (Refund or Exchange)

30-Day Risk-Free Guarantee

Pros:

Forces a square & precise putting stroke
Best Putting Mats in Golf
Pros:
Premium-quality mat

App with over 50 games included

Lifetime Guarantee (Refund or Exchange)

30-Day Risk-Free Guarantee
Best Putting Stroke Trainer
Pros:
Dial in Distance Control & Touch

Builds consistent stroke

Use at home or at the course

Lifetime Guarantee (Refund or Exchange)

30-Day Risk-Free Guarantee
Most Frustrating
Pros:
Forces a square & precise putting stroke
Best Putting Aids in Golf Reviewed
#1 Wellputt Mat
Best Family of Putting Mats in Golf
We putt the Wellputt Mat at the top of our best putting aid list for a couple reasons.
Having a convenient place to practice putting will lead to more putting practice
Turning putting practice into a putting game gets you more putting practice
It is superior quality with tons of training included in the Wellputt app
You may go to 1.a if you already have a putting mat you are satisfied with.
Putting on the Wellputt is like putting on a well-manicured grass putting surface. It has two Stimp speeds: 10 & 11.5.
It has a slew of alignment aids for your putter, your line, and your body. The app takes you from beginner to advanced and keeps your score.
I putt on it every day and my putting and my confidence in my putting has never been better.
Give it a look if you are in the market for a putting mat. Read my full Wellputt mat review for more info.
If you are only getting one training aid, we suggest the Wellput mat.
Get 15% OFF w/ Code: AFF15_GOLFERGEEKS
---
#1a Wellstroke Motion Putting Guide Mat
Best Putting Stroke Trainer in Golf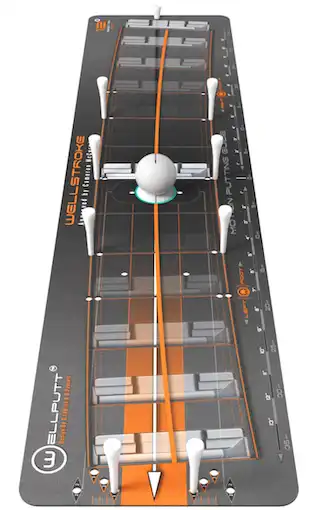 The Wellstrokeis next on our list for best golf putting aids and is straight-up magic and has transformed my putting stroke and my putting
This is #1 for you if you already have a mat to practice on at home
I am a much better putter since putting it to use a little over a month 5 months a year ago.
I thought it would only tighten up my stroke a little bit and help me putt better. Just in a generic sense.
What I didn't appreciate was how it would give me such a fundamentally solid putting stroke compared to what I had before.
My setup is Rock-solid and getting better. The alignment markings help me get my shoulder, foot alignment, and my eye line correct
No more handsy or wristy stroke. I can't make it through the Indoor Tees
I'm now well acquainted with center-face contact with my putter. Putting the ball on my start line is a new sensation.
The 3 biggest reasons the Wellstroke has improved my putting
The 12* arc on the mat. I have an excellent visual for exactly how my putter head should move and its easy to trace your putter over it
Amplitude lines. This one is killer and snuck up on me. There are 5 lines on either side of the putter alignment line. Practicing going from 1 to 1, 2 to 2, 3 to 3, etc. has dialed in my speed control, touch and made my stroke silky smooth.
Putting gates: I had to get really solid in my fundamentals to not hit the gates with my putter or the tee gates with the ball. I get sloppy… I get immediate feedback. Invaluable
I use it every single day. My putting stroke is now disciplined and trained. I EXPECT to hit my line when I'm playing instead of hoping. Simply put, I hole more putts per round.
This Wellstroke is 1.a. in my review. I use it every day.
You can read my full review of Wellstroke here.
NOTE: I also got the Indoor Tees to use as putting gates because I knew I would be putting indoors at home much more than the course. They offer instant feedback for balls going offline.
Get 15% OFF with Code: AFF15_GOLFERGEEKS
---
#2 The Putting stick
Most Frustrating
The Putting Stick is next on our list of best putting aids in golf.
Buy it and you will hate me a little bit…at first. But, stick with it and you will start to hate me less and less.
I still don't like using it some most of the time. But, I know if I can roll the ball all the way down the end my stroke was perfect. Anything less won't make it happen.
My record is 5 7 in a row. Your putting stroke will improve intuitively the more you use it. You will figure out a way to roll putts straight and it will show on the greens.
Nick Faldo is a big fan and features it often in "The Faldo Formula".
It's simply a 1-inch wide 48-inch long ruler with an alignment mirror built in and a level so the ball doesn't fall off the sides with a good stroke.
This is a tool for golfers serious about improving their putting game.
Do Not let its simplicity fool you. Get good using this thing and you're gonna putt better.
---
#3 MS 3D Putting Arc
Best Putting Arc Trainer
The MS 3D Putting Arc is next on our list of best putting aids in golf.
If you are having ANY trouble grooving your stroke…you need to get your hand on the MS 3D putting arc.
Ok…we've got you a convenient place to practice with your Wellputt mat or your local course.
Who's it for…
You need to groove a Proper & Consistent putter path and stroke
You need to learn what center-face contact feels like
You lack speed control because of inconsistent contact
You want to groove a putting stroke with a slight arc…See Tiger Woods
The standard lie angle of a putter is about 70°. Therefore, it's not designed to swing straight back and through.
You don't even need to take it to the course…though you should
Slap it down on your floor at home and Deeply Ingrain the proper putting stroke
What does the it do…
The MS 3D is designed to help you perfect your putting arc. At first glance, you might wonder how a straight putting rail allows you to develop an arced stroke. It's all in the angle of the rail.
When you maintain contact between the heel or toe of your putter and the surface of the rail, the putter will arc inward as it rises up the rail's slope at the beginning and end of your stroke. You'll hear and feel the geometry as you guide your putter.
It helps you to align your shot and ensure a consistent stroke path and length. For right-handed golfers, you should set up the line of the putting arc with the left side of the hole.
The teaching pros where I play use putting arcs frequently with their students.
---
#4 Eyeline Putting Mirror
Best Putting Mirror
The Eyeline putting mirror is next on our list of best putting aids in golf.
The two main benefits of the Eyeline putting alignment mirror are
1) The mirrored surface helps with aligning your body correctly.
2) It's a great putting station to practice putting drills from
Your putting and scoring will suffer if you can't at least
set up to your putt correctly and
start your ball on your intended line
The Eyeline putting mirror helps with
Putter alignment
Shoulder alignment
Getting your eyes in the exact position needed to give you the best chance at starting your putt online.
Look…
It's not the #1 putting alignment mirror at PGA tour stops for no reason.
---
#5 Puttout Pressure Put Trainer
Golfer Geeks Approved
Next on our list for best golf training aids is the Puttout.
Now, we've got to dial in your touch and speed control…

That's where the Puttout Pressure Putt Trainer comes in.
This golf putting aid recreates the pressure of a putting drill while giving you feedback about your stroke.
The Puttout Pressure Putt Trainer features a white circle that's the same size as a golf hole. That gives you a realistic target to aim for.
Behind the "hole" is a sloped ramp that's designed to either capture the golf ball if you hit it with perfect speed on a perfect line…or send your ball right back to you if you've covered the micro-target up with the plastic filler piece (this is all connected, intuitive, and easy to use)
The Puttout is a great putting trainer for immediate feedback on your putting stroke and putting. It's fun too, which means you will use it more often and improve faster. Wins all the way around
---
Types of Putting Training Aids
Alignment Putting Aids
Why invest in a putting alignment aid?
You can't putt well if you can't aim and align well…The End.
The best alignment putting aids can help you make contact at the center of the putter face, create a line in your mind's eye to direct your golf ball where it needs to go and ultimately improve your short game.
This is one of the best ways to improve your handicap. You won't improve your putts if you don't practice. Alignment putting aids are a great way to practice with intention and get feedback every time you putt.
Arc Putting Aids
You might imagine that you're supposed to swing your putter in a completely straight line. That would be true if you were straddling the ball and hitting it with a croquet mallet. However, because your feet are both planted on one side of the ball in golf, physics require you to swing with a slight arc.
If you try to swing straight back and through, you'll probably close the putter face on the backswing and open it as you connect with the golf ball and follow through. Developing the perfect arc will help you keep the clubface square on impact.
Developing muscle memory for this type of stroke can be difficult without a training aid. Putting arc trainers help your putter travel properly so that you deliver solid putts every time.
Golf Putting Mats
We all know we need to practice our putting more. Getting to your course and hitting the practice green is ideal, but rarely happens.
What's the next best option?
Practice at home on your carpet…if you have carpet. Better than nothing, but not ideal.
We can do better. You can get a great putting mat for a reasonable price these days and the putting experience will be FAR SUPERIOR to your carpet.
The more reps you get on your putting mat with some kind of plan will put you head and shoulders above your buddies. This is one of those easy wins hardly anyone takes advantage of.
Using a putting mat will help you build confidence on the greens, save strokes, and improve your score. No doubt. Add in one or more of the putting trainers on this page and results come much quicker.
It also gives you a chance to practice using your other putting aids. You can focus on feel, setup and stroke without leaving the comfort of your own home.
No, it's not as good as putting on a real green. That's why it's the "next best option."
---
FAQs
What is the best golf putting training aid?
Which putting mirror is best?
Are putting mirrors worth it? 
Yes, they're useful for getting your alignment set.
What Putting tools do the pros use?
Putting mirrors are a staple at tour events. You can bet a good putting mat is part of their arsenal. Don't forget putting under a string or chalk for chalk lines on the green, too.
What is the perfect putting arc? 
There's no perfect putting arc for everyone. Its going to be a little different for everyone. I prefer the slight arc of my Wellstroke – which is 12 degrees.
What do Putting Gates do? 
They force you to focus on putting on your intended line.
Should I putt with an arc?
Yes. It's perfectly natural and even golfers that try to putt straight back and through putt on a slight arc. 
Should you putt straight back straight through? 
This can be your feel, but it won't be real. Too much manipulation. Your body turns on a natural slight arc.
Are putting aids worth it?
Yes, but only if you want to get better at putting.
Verdict: What's the Best Putting Training Aid on the market?
Our choice for the best golf putting aid is the Wellputt Mat.
Our reasons:
Master alignment
Master speed control
Master distance control
Master rolling on your line…end over end.
Master touch
But…
Skip to 1a – the Wellstroke – if you already have a putting mat you like.
Thanks for checking out our best putting aids review and guide. If you decide to buy any of these putting aids, please let me know how they worked out for you.
Best Family of Putting Mats in Golf