This is Golfer Geeks' Titleist Vokey SM9 Wedge review.
I'm a teaching pro & scratch golfer who has played golf for 30 years. I'm always looking to improve my game, even if it's just a shot or two here and there. I love testing new strategies both on and off the course and studying golf swings to see what actually works.
I've got 3 rounds, 5 hours on the range, and one session on a Foresight GC3 launch monitor with the Vokey SM9 Wedge.
Summary: The Titleist Vokey SM9 wedge features spin-milled grooves, an improved center of gravity, dozens of options for loft/grind combination, and more precision than almost any other wedge on the market. If your short game needs spin, this is where to find it.
In this review of the Titleist Vokey SM9 wedge, I discuss my experience with the club, its unique features and benefits, as well as launch monitor data, customer reviews, and potential alternatives.
Highly Recommended
Titleist Vokey SM9 Wedge Overview
Let's face facts here: the Titleist Vokey SM9 wedge sets the bar for other golf manufacturers.
We are on the Vokey SM9 series at this point, but each Vokey wedge that comes to the market offers higher spin rates, longer-lasting spin (better longevity in the grooves), additional sole grinds, and even better feel.
The newest Vokey wedges feature an optimized center of gravity and longer hosels to make forgiveness a little better (a consistent weak point for the Vokey wedges). Still, I think forgiveness should never be why you put a Titleist Vokey SM9 in your bag.
Translation- The Vokey SM9 is all about precision, spin, and shot-making around the greens; for better players, these SM9 wedges are the ticket to lower scores. 
Why Consider the Titleist Vokey SM9?
Do you struggle to stop a ball on a golf green? Have you tried putting a Titleist Pro V1 and a Titleist Vokey SM9 wedge into play? The combination of the two creates just about as much spin as you can find on the golf course.
Too many amateur golfers are using equipment that does not generate enough spin. Your first reason for considering the SM9 should be increased spin. Feel, and shot design should come next.
If your golf game has reached the point that you are not trying to hit the same standard chip to the center of the green, the SM9 is a good fit. This wedge allows you to get creative; it encourages impressive shot-making and design. (That's why so many PGA Tour guys have these in the bag.)
The most significant benefits of the SM9 include:
Clean-looking style with maneuverability in the club head at the address
Changes made to the center of gravity position that impact forgiveness on the shorter shots
Some of the highest and most consistent spin rates of any golf wedge we tested
Sole grinds that can accommodate turf condition and any player style
Precision in manufacturing with very tight tolerances in the groove design for incredible spin from short grass and bunkers
Club tested:
Loft – 56 degrees
Bounce – 14 degrees
Grind – F
Shaft – Dynamic Gold Tour Issue S400
Vokey SM9 Specs and Loft Options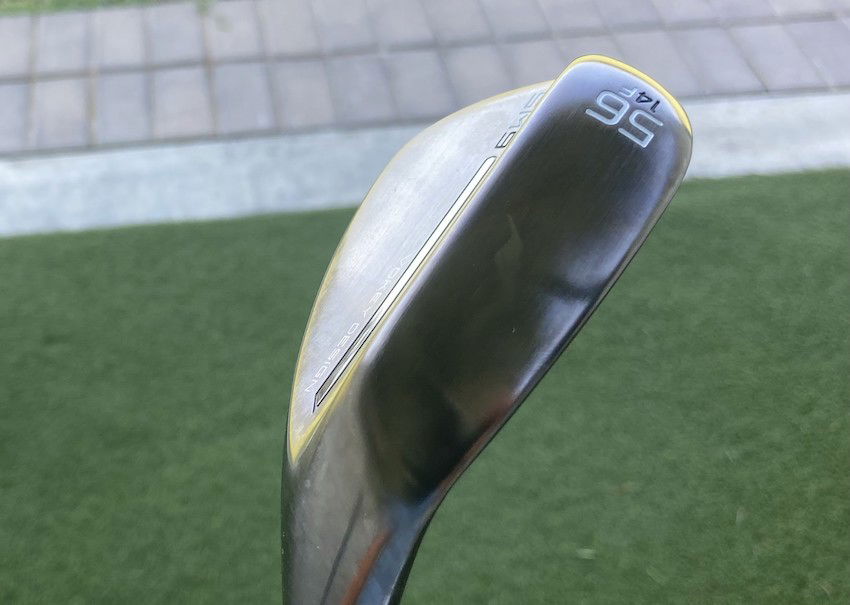 I have a love-hate relationship with the number of options Vokey offers in their wedges. It can be a little confusing when narrowing down which one is for you; here are the basics of the Vokey SM9 line.
3 finish options: Tour Chrome, Brushed Steel, Jet Black
Loft options: Ranging from 46 to 62 degrees
Grind options: F, M, S, D, L, K
Titleist has a wedge selection tool on their website to help you narrow down grind options.
My Experience with the Vokey SM9 Wedge
I started my testing session by hitting some shots on the Foresight GC3 launch monitor. I've played Vokey wedges in the past, and I know their spin rates always felt high, but I wanted to see what those numbers looked like.
My full swing speed with the SM9 was around 77 miles per hour, and the club produced yardages right around 90 yards, exactly what I expected and would need from the SM9.
Spin rates on the full swing shots were in the 9100-9500 range, the highest of any wedge I tested this season.
Can't say I'm really surprised.
However, I was really impressed with the spin rates on shorter shots. I took some half-swing shots trying to hit the ball around 50 yards to see how the wedge responded. Sometimes, you lose out on spin when you slow swing speed down a bit. 
I did lose a little spin, but the rates were still in the 7000-7500 range. For comparison, the
TaylorMade Hi-Toe wedge barely reached 7000 on the full swing shots.
After some time with the Foresight, I took the SM9 out on the course to check on the playability, feel, and precision. The Titleist Vokey SM9 is everything you could want from a scoring club and more.
With the SM9 in your hands, you will feel in control of your shots, you can choose where to place the ball, and when you hit the ball in the center, you get rewarded with that pure feel that only a Titleist wedge can offer.
Titleist makes adjustments to clubs based on tour player feedback. With the new SM9 the ability to hit flighted wedges (lower than normal trajectory, without losing spin) is quite good. I even find the natural ball flight of the SM9 to be slightly lower yet more controlled than other wedges.
The only negative I found was a little less forgiveness on the full swing shots. If you miss the center a little, expect less distance and ball flight that's not necessarily optimized. That's why I recommend this one for lower handicap players or those ready to commit to hitting "shots" around the greens, not just hitting the golf ball. (There's a difference.)
Review of the Titleist Vokey SM9 Wedges
Looks: Perfect (A+) My favorite looking wedge, from the clean top line to the overall shape and size, this is a beautiful golf club.
Sound/ Feel: (A+) Exceptional, exactly what I want and what I expect from Titleist at this point. I'll also give this an A+ for feedback; you will know if you miss it a little.
Distance and Distance Control: (A) Great, again, make sure that you are prepared to put some time in to get to know the wedge and ensure your mechanics are correct; higher handicappers could struggle with distance control here.
Forgiveness: (B) To get the precision you get from the Vokey SM9, forgiveness could not be as high; it's not completely unforgiving, just something to be aware of.
Spin: (A+) The highest spin rates of the wedges we tested, impressive control from all areas on the course.
Consistency: (A) Spin rates stayed almost perfectly consistent from one swing to the next. When switching to shorter shots, spin rates decreased but still remained higher than other wedges on the market.
Value: (A+) Certainly not the cheapest wedge on the market, but spin is worth paying for!
Customer Reviews
The customer reviews were almost all positive for the Titleist Vokey SM9 wedges.
Some comments I saw were:
"Amazing club, more forgiveness than the SM8 swing weight is perfect amazing backspin."
"The best wedges I've ever owned."
"Grind and loft options to create a perfect wedge lineup."
"Although I'm appalled at the ridiculous prices of wedges and putters these days, this wedge is pretty sweet."
"It is a Vokey wedge; what isn't perfect about it?"
Who are the Vokey SM9 wedges for?
Low handicap: (Absolutely) The SM9 was made for lower handicappers who want to go even lower.
Mid handicap: (Yes) Mid handicappers can take their game to the next level by using a wedge like the SM9 to leave shorter putts.
High handicap: (Maybe) Forgiveness has gotten better since the last Spin Milled wedges from Vokey. You have better options.
Potential Alternatives
Pros:

Impressive distance control

Great feel on both long and short shots

Not too soft coming off the face of the club

Spin, regardless of the lie

Pros:

Similar technology and feel to Jaws Raw Chrome

Anti-glare black finish

Stays looking new for a longer time

Cons:

Forgiveness is not the highest, but there is still some here

Cons:

Not as consistent as Chrome version
Highly Recommended
Pros:
Impressive distance control

Great feel on both long and short shots

Not too soft coming off the face of the club

Spin, regardless of the lie
Cons:
Forgiveness is not the highest, but there is still some here
Highly Recommended
Pros:
Similar technology and feel to Jaws Raw Chrome

Anti-glare black finish

Stays looking new for a longer time
Cons:
Not as consistent as Chrome version
Our Verdict on the Titleist Vokey SM9
The Titleist Vokey SM9 dominates when you look at data and when you take them out to the course.
I love the feel, sound, and overall spin rates of the SM9. The forgiveness is improved from previous models, and it's not a glaring issue, just something to be aware of.
If you have been analyzing strokes gained or know your chips and pitches are leaving you too far from the hole, this is the wedge to buy.
Our #1 suggestion is to get your hands on it before you buy. Either at your local golf store or use Global Golf's Utry trial program. I use it and recommend it.
Thanks for checking out our Titleist Vokey SM9 wedges review, and let us know how they work for you.
Highly Recommended