Welcome to my review of the best golf accessories, gear, and gadgets on the market in 2023.
I've shed quite a few dollars over the years on cool golf gear, gadgets and gifts for myself and golfer buddies.
I have a good perspective on what's needed, what's nice to have, and what is cool, but a waste… But I'm not here to preach.
In this guide- I've included the coolest golf items for the golfer in your life. Be that you, a buddy, or someone you love…I've got you covered.
What you'll learn…
The best and coolest golf stuff for the man or woman in your life
The best places to buy 'em
Must-Have Golf Accessories
Pros:

Ingenius Design - Wet inside & Dry Outside

Durable

Looks good too

Pros:

Quality construction

Retractable handle

Cleans well

Replaceable brush

Pros:

Durable

Easy to find post-hit

Cheap

Pros:

Durable

Lobster claw attaches easily

Pros:

Excellent Fit & Feel

Best Durability

Premium Quality Soft Cabretta Leather

Great Value

Pros:

Excellent fit

Premium quality

Good price
Best Golf Accessories Reviewed
Frogger Wet & Dry Amphibian Golf Towel
Best Golf Towel
The Frogger Amphibian Towel is my favorite golf towel…by far. Not only does it look really cool, it is the most functional golf towel out there.
Why I love it…
It's designed to be effective rain or shine. Perfect and ingenious.
I really like taking care of my clubs, especially the club face. I thoroughly clean my irons after every shot during my rounds and the Amphibian towel makes it easy and fast.
I knock or rub off any major clumps of dirt or mud with my shoe, then I use the inside of the Frogger towel (which I thoroughly wet with water prior to my round) and rub off whatever is left between the grooves.
I use the Frogger golf brush to clean any especially stubborn areas between the grooves when needed.
This keeps my club faces performing well and diminishes wear and tear just a bit.
The really cool thing is that when it rains, you can use the outside of the towel to clean your clubs and use the inside of the towel to dry them…Like I said, a great golf towel.
I own it. I love it
---
Frogger BrushPro Golf Brush
Best Golf Brush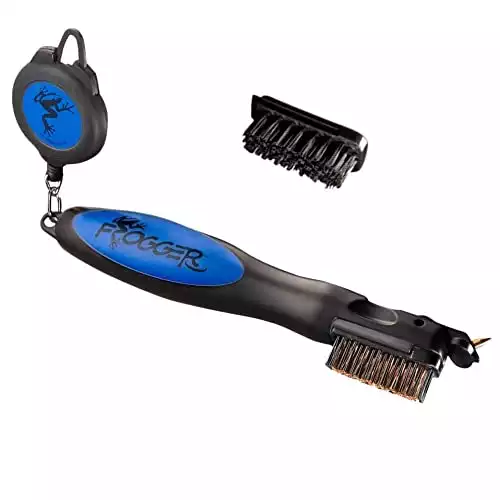 This may surprise you, but the Frogger BrushPro is my favorite golf brush…by far. And, another mandatory golf accessory.
Three Four things I love…real quick
Replaceable bristles: You never have to buy a new brush
Retractable cord: No contorting to get your club closer to your brush to clean and no worry losing your brush…ever.
Retractable groove cleaner
Two different brush-types: 100% nylon and Nylon Phosphorous Bronze combo (I recommend using only the nylon brush to lessen any chance of scratching my clubs.)
I didn't give my golf brush a whole lot of attention…like most of you that have been playing golf for any length of time. I thought they were all pretty much the same- crappy.
Then I noticed a buddy of mine had the Frogger. It had the retractable cord. It didn't look like a piece of crap. It even looked well-built.
It had the combo bristles and cleaned his club faces well. And it was SOOO easy to use because of the cord. No more hunching over to bring my club closer to the brush.
I bought my first and only BrushPro about 10 years ago and only replaced the nylon brush about a year and a half ago.
See…I didn't even realize you could replace the bristles. I was going to buy a brand new brush. Now I know, I have one for life.
You can't beat this brush. It gets my highest recommendation.
---
BuyAgain Golf Tee Pouch
I just bought my BuyAgain golf tee pouch a couple months ago to replace the one I'd used for probably 15 years…give or take
What I like about it
It's made of tough material and seems to be put together well
I love the lobster claw swivel clip as opposed to the plastic clip on my prior bag
Super inexpensive, which doesn't seem to come at the cost of quality.
It looks good enough. I don't need fancy for this job.
You've also got a nice variety of colors so you can match your bag or your taste.
Here's what I keep in my valuables bag:
Tees
Quarters for marking my ball
Divot repair tool
1 scoring pencil, just in case
I just don't think you can go wrong on this one. I like to clip my bag on the outside of my golf bag for easy access and I like to keep the pockets on my golf bag for more important stuff.
I'm loving my BuyAgain so far and can't find a reason not to recommend it.
---
SkyCaddie SX500 Power Bundle
Golfer Geeks Approved
I've owned a SkyCaddie for about 15 years at this point.
I started with the SG5 and used it until it stopped working about a year and a half ago. I then bought the SkyCaddie Touch and use it today.
Let me explain why I love them and much prefer them to rangefinders
Every piece of information you need to choose the best strategy for your shot is in the palm of your hand. Here's what the SX 550 offers:

Total distance to front, middle, and back of green
The distance to any hazard, front and carry
Intelligreen which shows exact shape of green and rotates to match your angle of approach
Dynamic Holevue rotates the fairway to match your angle of attack and reflect accurate distances

Dynamic Holevue w/ Intellipath lets you move your cursor to your preferred landing spot and reorients again to show accurate yardages, hazards, etc.

Dynamic Rangevue shows yardage arcs over the fairway to quickly pick your landing areas

Dynamic Rangevue w/ club ranges to let you enter club yardages so SkyCaddie can suggest clubs

Intelligreen w/ Pinpoint Pro shows major tiers and contours of the green and allows you to move target crosshairs to get more accurate yardages to the pin
None of this even includes great game tracking features, like keeping an accurate handicap, driver distance, fairways hit, greens hit, putts, where are you missing (left, right, short, long), etc. It's a complete game tracking experience
Admittedly, there are always small complaints with tech that performs this many tasks, but I will always own a golf GPS and I recommend the SkyCaddie SX 500.
---
Bushnell Tour V5 Shift Golf Laser Rangefinder
Bushnell has long been the standard in golf rangefinders and the Tour V5 Shift is no exception.
I know there are other fine brands, I just never seem to see them.
Here's why you go with Bushnell and the V5
Enhanced slope algorithm for more accurate yardages
Can turn off slope function for tournaments with the flick of a switch
Integrated "Bite" magnetic cart mount secures easily to cart frame
Pinseeker with visual jolt gives you vibrating pulses and flashing red light when the pin in locked
6x magnification
I've read some complaints of issues in fog, battery door, and getting your eye aligned to pick your target. But, with 85% 5-star and another 8% 4-star ratings, it seems to work very well for the vast majority of buyers.
So…I'm recommending the Bushnell Tour V5 Shift if you are in the market for a rangefinder.
---
Pride Performance Professional Tee System Golf Tees
Best Golf Tees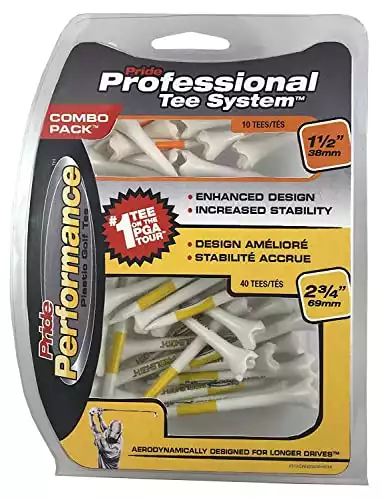 That's a pretty fancy name for golf tees, but these are pretty much the best tees out there and they are inexpensive too.
I don't often buy tees, but when I do, I buy these. I don't even think about buying wooden tees anymore. The most they last is one or two swings before I destroy them.
The Pride Performance tees are super durable, cradle the ball nicely, and are pretty easy to find after your shot.
Don't overthink this one. If you are going to buy tees, may as well get Pride Performance tees.
---
Golters Metal Bending Golf Divot Repair Tool 4-pack
I go very basic with my divot tool and the one you see above is my preferred design.
I don't need one that holds a ball marker…though that's nice, or one that opens like a switch blade. These just aren't things I look for.
I've always gotten mine from various golf courses I've played, but I lost my valuables bag (mentioned above) a while back along with a couple of these style divot repair tools which I had for 15-20 years. I was slightly bummed.
I pulled the trigger on the exact divot tools you are looking at in the picture above and I'm going to recommend them to you.
If you want more or different features, click here to search different types on Amazon.
---
100% Cabretta Leather Gloves
Editor's Pick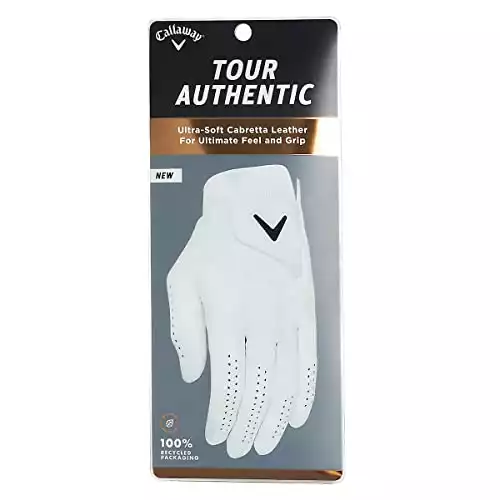 Golfer Geeks' favorite it the Callaway Tour Authentic shown above.
My philosophy on gloves…
I alway buy cabretta leather gloves.
I always buy more than one at a time.
But I always buy two types…or with two different purposes in mind.
I buy bargain or cheaper cabretta leather gloves for practice (I also use them for play occasionally)- which I do a lot. And, I buy top-notch name brand cabretta leather gloves for play during a round.
Why cabretta leather? I've tried many many non cabretta or non-full cabretta gloves over the years. Many.
They all feel…off. Meaning, my grip is never comfortable on the club. Which is death. And / or they do not last more than a couple rounds.
I need my gloves to fit very well or I'm cooked. Some people buy and wear cheap pieces of crap gloves and perform just fine. Not I.
Some tips for extending the life of your nice gloves
Rotate 2-3 gloves during your round. ESPECIALLY in the summer. I change gloves for every shot and take them off as soon as I hit my shot. I then hang them on the golf cart to dry in the wind.
Don't ball them up and stick them in your front pocket when you take them off around the green or before you hit your cart. Stick them neatly in your back pocket with the fingers sticking out.
Fold them neatly and put them back in their packaging after the round. This will keep them from dry rotting and getting stiff from all the salt in your sweat.
I've even rinsed them under water after an especially sweaty round or range session. Let them mostly dry. Then put them back in their packaging.
All this sounds simple, but it works well.
I'm going to recommend the KIRKLAND SIGNATURE Men's Golf Gloves Premium Cabretta 3 Pack gloves as the practice gloves…not that you can't play a round with them or just use them exclusively.
You have many choices for high-end cabretta leather gloves, so I just chose one of the best. Callaway Tour Authentic
Check out my best golf gloves for hot weather page for more info on picking your best gloves.
---
Golf Hats for Summer
Golf hats for summer come in all shapes and sizes and personal preference plays a big role in what you will choose.
I opt for more sun protection as I get older. You'll usually find me in a Aussie-style hat in the Summer, especially when the sun is beaming…which is often here in Houston.
I still keep a slew of baseball-style caps for when the sun is a little less intense. I've provided links to the three types of Summer hats below.
---
Knit Golf Hats for Winter
t can get pretty cold during winter down here in Houston..believe it or not.
There are quite a few days when my standard baseball cap won't do. I've had a knit cap for winter golf for 20 years or so and I consider it a must have.
Again, tastes vary. So, I'm going to link to a big page where you have just enough choices to pick the one you like without being flooded with choices.
Click here to pick your winter golf hat.
Best Golf Accessories for Men
Cigar holder
Beer cooler
Portable speaker
Cigar Minder Clip – All Purpose Cigar Holder
A great cigar holder is something I'll never need, but if we're talking golf accessories specifically for men…they gotta be included
The Cigar Minder Clip is the most popular cigar holder on Amazon…by far.
It holds your cigar well (up to 54-ring gauge) without damaging the wrapper
It can hold your cigar vertically so it stays lit
It attaches easily to the cart
I've read a couple complaints that it didn't hold a big enough cigar or issues with clamping to the golf cart, but those seem to be a distinct minority.
If you are in the market for a cigar clip, I'm going to recommend the Cigar Minder Clip.
JBL FLIP 5 – Waterproof Portable Bluetooth Speaker
I'm in the distinct minority here.
I'm not really into listening to music while I play golf, but I can tolerate it
For the rest of you, here's why you'll love the JBL Flip 5 Bluetooth Speaker
It one of the best reviewed portable speakers on Amazon
Sound quality is off the charts…even at very high volume
It's got way more battery power than you need
You can use it beyond golf and pair multiple speakers with it
Because of this I'm confidently recommending the JBL Flip 5 Bluetooth Speaker
Athletico Golf Cooler Bag
I've seen all kinds of beer coolers on the course, but the Athletico golf cooler is about the slickest thing out there.
We all know golf carts and push carts don't have tons of space to put stuff, so the Athletico makes perfect sense. Fits right into your bag.
There are two three recurring comments about the bag from customers
It's the perfect size
People are surprised how well in insulates for hours on end in the hot sun.
It's a great value
A surprising con
Though 93% of customers claim it insulates great, there are about 7% of purchasers that say it doesn't keep cans cool long enough.
I have to go with the 93% when making recommendations. If you are looking for a light to average day of drinking on the course, the Athletico golf cooler will work just fine.
If you are looking for more capacity, check out the Coleman 16-Can Soft Cooler
Thanks for checking out my best golf accessories guide. It's not exhaustive, but it will get you pretty much all the way there.
---