Thanks for checking out Golfer Geeks' comparison of Ping G425 irons vs Taylormade Stealth irons.
I'm an avid golfer, a 9.2 7 handicap on my way to a 2 (been a 5.6) and frequent tester of golf clubs and equipment since 2015.
I tested the G425 and Stealth irons on the range and on the course.
Summary: The G425s are the gold standard for game improvement irons I've tested in 2022, and Stealth irons are right behind them. Feel great – launch great – carry great. Very forgiving too. I wouldn't kick Stealth irons out of the bed…unless the G425s showed up at the door.
In this comparison of the Ping G425 irons and Taylormade Stealth irons, I discuss my experience with the clubs, unique features and benefits, and my pick for which iron set I'd buy.
Ping G425 Irons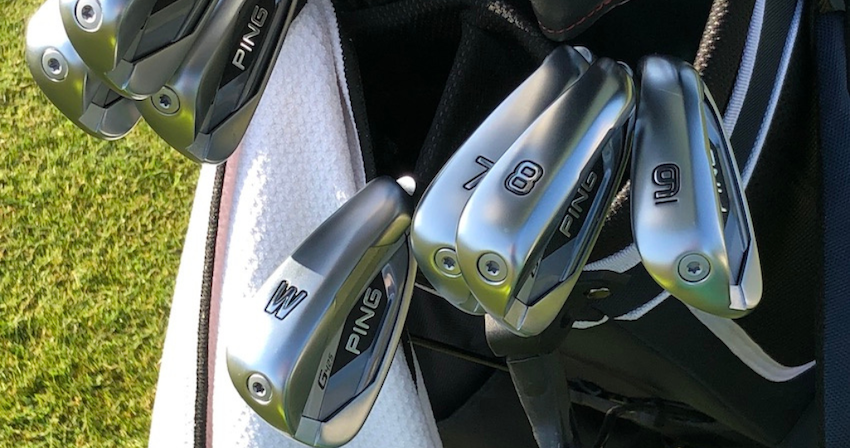 Set Tested – 4-PW Iron Set Men Right Hand, Black Dot Standard
Shaft: Ping AWT 2.0 Steel Stiff Flex
PING G425 Iron Specs
| | | | | | |
| --- | --- | --- | --- | --- | --- |
| Club | Length | Loft | Lie | Offset | Swingweight |
| PW | 35.5″ | 44.5* | 64.1* | .11″ | D2 |
| 9-iron | 36″ | 39.5* | 63.5* | .13″ | D0.5 |
| 8-iron | 36.5″ | 34.5* | 62.8* | .15″ | D0 |
| 7-iron | 37″ | 30* | 62* | .18″ | D0 |
| 6-iron | 37 5/8″ | 26.5* | 61.5* | .21″ | D0 |
| 5-iron | 38.25″ | 25* | 61* | .24″ | D0 |
| 4-iron | 38 7/8″ | 20.5* | 60.5* | .27″ | D0 |
The G425 irons are Ping's flagship game improvement irons. And, for good reason. They don't miss a beat in any game improvement category.
They help with poor contact, they help with distance, they help with ball launch, and they help with accuracy. They do it all and you can still play shots with them if you've got the chops.   
You need to at least give the G425s a try if you're in the market for game-improvement irons
Taylormade Stealth Irons
Set Tested – 4-PW, AW Iron Set Men Right Hand
Shaft: FST KBS Max MT 85 Steel Stiff Flex
Stealth irons have replaced the SIM2 irons from last year and are Taylormade's only game improvement iron option. Though, TM hasn't sold out of their inventory of SIM2s just yet.
Stealth irons are a solid alternative to the G425s. Head size is similar. Playing characteristics are similar. Price is similar too.
Testing the G425 & Stealth Irons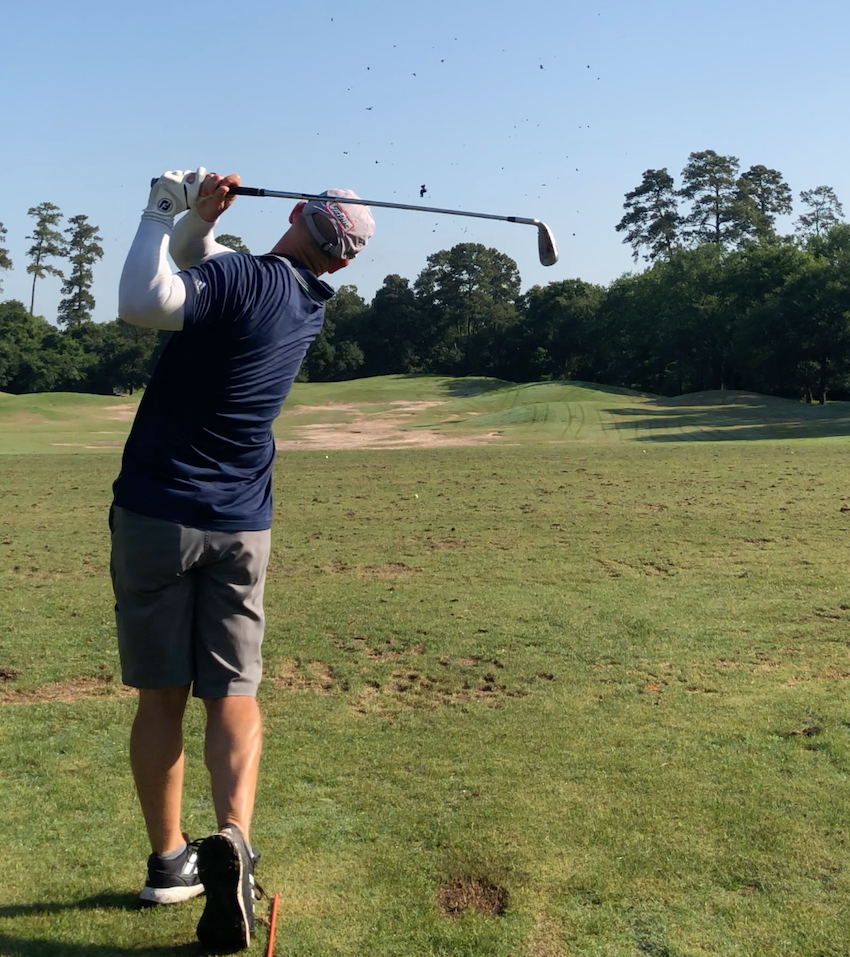 G425s
2 Range sessions: I tested the G410s at the same time and probably hit around a bucket or a little less with each.  
1 Round of golf: I thoroughly enjoyed my round with the G425s. My ball striking was good to go and the G425s were a dream to hit
It's not often I get to play a round with test clubs where my swing is "on". This was such a case. Learned everything I needed to know pretty quickly.
Stealths
2 Range Sessions: Didn't have my best stuff. But, managed to get through the bag and hit a few solid and semi-solid shots. Enough to form an impression.
1 Round of Golf: Same as above. Brought my C-game to the round, but managed to be at least around the green most of the time.  
My Impressions of G425s & Stealth irons
The G425s are a dream to hit and play. Their feel is exceptional for a game improvement iron. Extremely playable and easy to hit great-looking shots.
Stealth irons performed well in their own right. They lack just a touch in the feel category compared to the G425s. I can't ding them too much on performance in this comparison because my swing and ball striking was no bueno.
Looks
I prefer the G425s, the overall design, and, specifically, the Hydropearl finish. They're about the same size, so that's not a factor. Taylormade doesn't make great-looking game improvement irons.
Winner – G425s
Sound/Feel
This one belongs to the G425s. Lovely muted sound and soft feel on impact. Stealths are a touch harsher.
Winner – G425s
Playability/Ball Flight/Accuracy
Couldn't ask for better with the G425s. Outstanding. I think maybe Stealth irons are half a notch behind.
Winner – G425s
Forgiveness
They both excel here. Close enough to call it a draw.
Winner – Draw
Distance
These are both long irons. The Stealths have stronger lofts than the G425s I played. You can get the "Power Spec Loft" option with Ping G425s, which give you about the same lofts as Stealth irons.
I hit the G425s longer because my contact and swing were better when I played them.
Winner – Draw.
Verdict on Ping G425 irons vs Taylormade Stealth irons
Which set would I get? Ping G425s. Can't get over how good they felt.
I'm going to assume the Stealths would have performed similarly if my swing was as good when I played them. To be fair, I may owe the Stealths another round of testing. 
My #1 suggestion is to test both sets before you buy. Either at your local golf store or take advantage of Global Golf's Utry trial program. I use it and recommend it.
Thanks for checking out my comparison of the Ping G425 irons vs Taylormade Stealth irons. You will love whichever set you end up with. I almost guarantee it.
Pros:

So... so easy to hit

Soft feel

High trajectory

Great distance & forgiveness

Pros:

Long & Forgiving

Elevates ball easily

Easy to hit

Cons:

Nothing - you need to try them

Description:

Get 8% off with Coupon Code: GolferGeek

Description:

Get 8% OFF with Coupon Code: GolferGeek
Editor's Pick
Pros:
So... so easy to hit

Soft feel

High trajectory

Great distance & forgiveness
Cons:
Nothing - you need to try them
Description:
Get 8% off with Coupon Code: GolferGeek
Golfer Geeks Approved
Pros:
Long & Forgiving

Elevates ball easily

Easy to hit
Description:
Get 8% OFF with Coupon Code: GolferGeek