Thanks for checking out our review of the Swing Juice golf lifestyle apparel brand. (They do baseball too, but I ain't that into it)
I'm an avid golfer, a 9.2 7 handicap on my way to a 2 (been a 5.6) and frequent tester of golf clubs and equipment since 2015. (Now apparel, I guess)
I own 3 of their polos (two I bought after testing), 2 t-shirts, and the hat you see above. I'll check out their quarter-zip tops when it dips below 90 degrees here in Houston.
Summary – Their polos look awesome and fit me perfect. Ditto the hat – though I'm not wearing it much this summer because I don't want to sweat stain it to death. The t-shirts are light-weight and decent quality. Beware, they run small. I fully intend to buy more of their shirts, hats, and pullovers this winter.
In this Swing Juice review, I cover my experience with the company, the quality of the products, and comparable alternative brands I think are worth a look.
What is Swing Juice?
– Swing Juice was an energy drink company geared toward golfers.
– Swing Juice is a "golf-inspired" apparel brand.
The owner, Jon Mason, transitioned the company into what is now in 2014.
The main premise of Swing Juice is, golf doesn't have to be stuffy and conservative. There's room for golfers to express their passion for the sport in unique and fun styles.
And, they can coexist with the golf traditions that we all love. (Guessing they don't remember or have never seen the outstanding array of colors and fabrics pro golfers wore in the 1970s)
They feature unique and fun clothing and accessory designs meant to take the seriousness down and raise the fun-having up.
Swing Juice is also a community of passionate golfers if their 70K followers on Instagram, 8K followers on Twitter, and 30K followers on Facebook are any indication.
What does Swing Juice Sell?
Shirts, hats, and a few accessories for men, women, and kids. Women actually have more options. The kids get t-shirts and hoodies.
Polos for men and women range from $80 to $98. Not cheap, but not over the top for clothes of this quality. (Did I mention they run frequent sales?) The outerwear pullovers range from $98 to $138. Again, not cheap, but fair pricing for premium clothes.
The T-shirts and hats sell for $28. Not bad pricing at all. The styles are unique and look nice.
Accessories include koozies, stickers and, bottles.
The golf cart cup holder-specific Swing Juice bottles are an accessory you may want to check out. They're spill-proof and supposed to be great for mixing drinks on the course. I don't have one yet, but I'll get to work on that. The Swing Juice website ways the bottle was featured on Shark Tank – pretty cool.
Swing Juice Polos
That polo you see on the left – it's the first one Swing Juice sent me. Not a color you would normally see me wearing. I figured if that one looked good, my normal color choices would work out just peachy. Nailed that one, so I ordered two more – a black and a blue version of that one.
The two other images below are examples of the unique designs Swing Juice is known for. There are a lot more, you need to take a look for yourself. 
The Swing Juice polos exceeded my expectations. In quality, fit, feel, everything. I'm not exactly a clothes horse at 5′ 7″ and 170 lbs, but I try to look as good as I can. Swing Juice polos make it easy easier. I even like the minimal logo.
Swing Juice T-shirts & Hats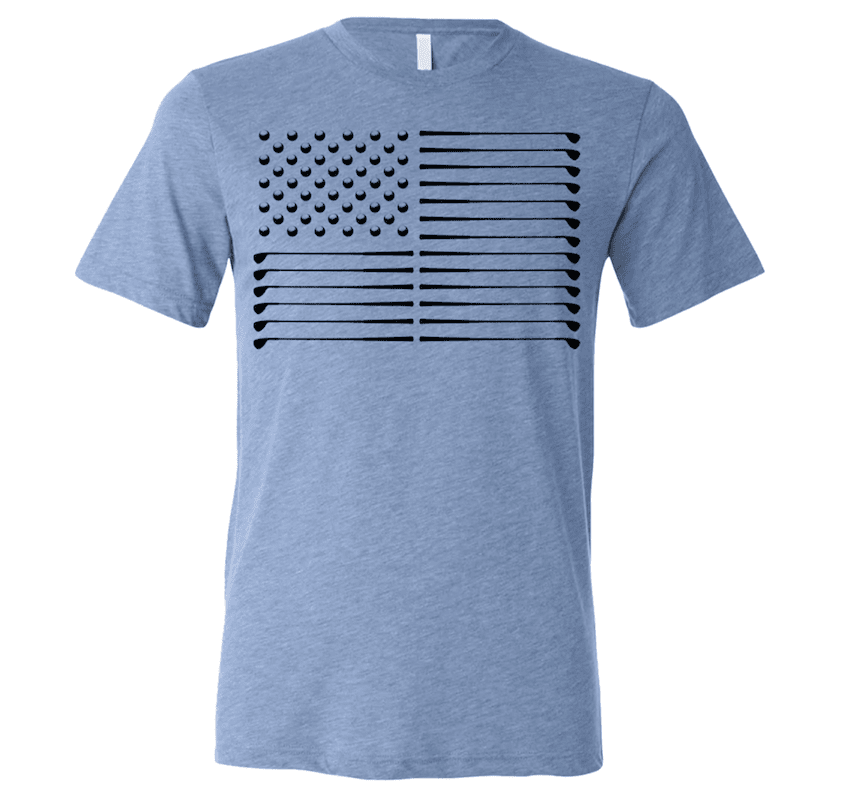 Swing Juice has a large – very large – variety of golf-themed t-shirts. The two above are the ones I own.
The fabric is light and they fit snug for their size, so I strongly suggest ordering one size larger. Unless, you like tight t-shirts. I'm a bit old and fat not lean enough for that.
Not much else to say about t-shirts. Just go take a look. There are bound to be a few you like and the price is pretty good too.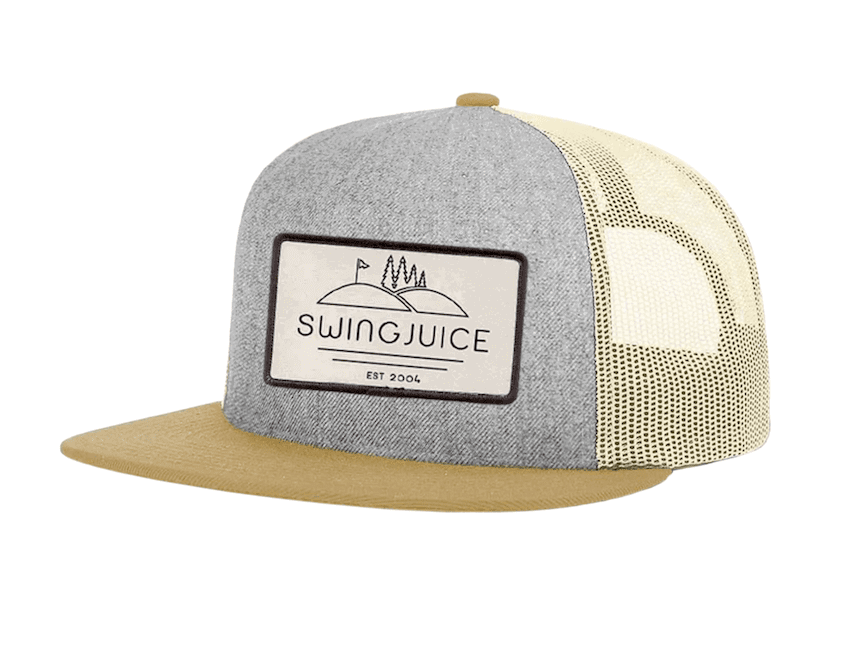 They sell regular trucker hats, like the one at the top of the page, as well as flat-brim hats and beanies for winter.
Verdict on Swing Juice
Their polos look great, fit well, and are beaucoup comfortable. My Swing Juice hat looks great and fits well. The t-shirts are cool too.
I'm constantly on the lookout for deals from them now. Do yourself a favor and get on their email list. They offer tons of deals that way.
Thanks for checking out our Swing Juice review. Let me know if you try their stuff and what you think.