This is Golfer Geeks' Callaway Paradym Irons review.
I'm an avid golfer, 8ish handicap on my way to a 2 (been a 5.6) and frequent tester of golf clubs and equipment since 2015.
I've had one long practice session and one round of golf with the Paradym irons.
Summary: Excellent playability with a splash of game improvement features in an attractive compact clubhead.
In this review of the Callaway Paradym irons, I discuss my experience with the clubs, unique features and benefits, as well as customer reviews and potential alternatives.
Highly Recommended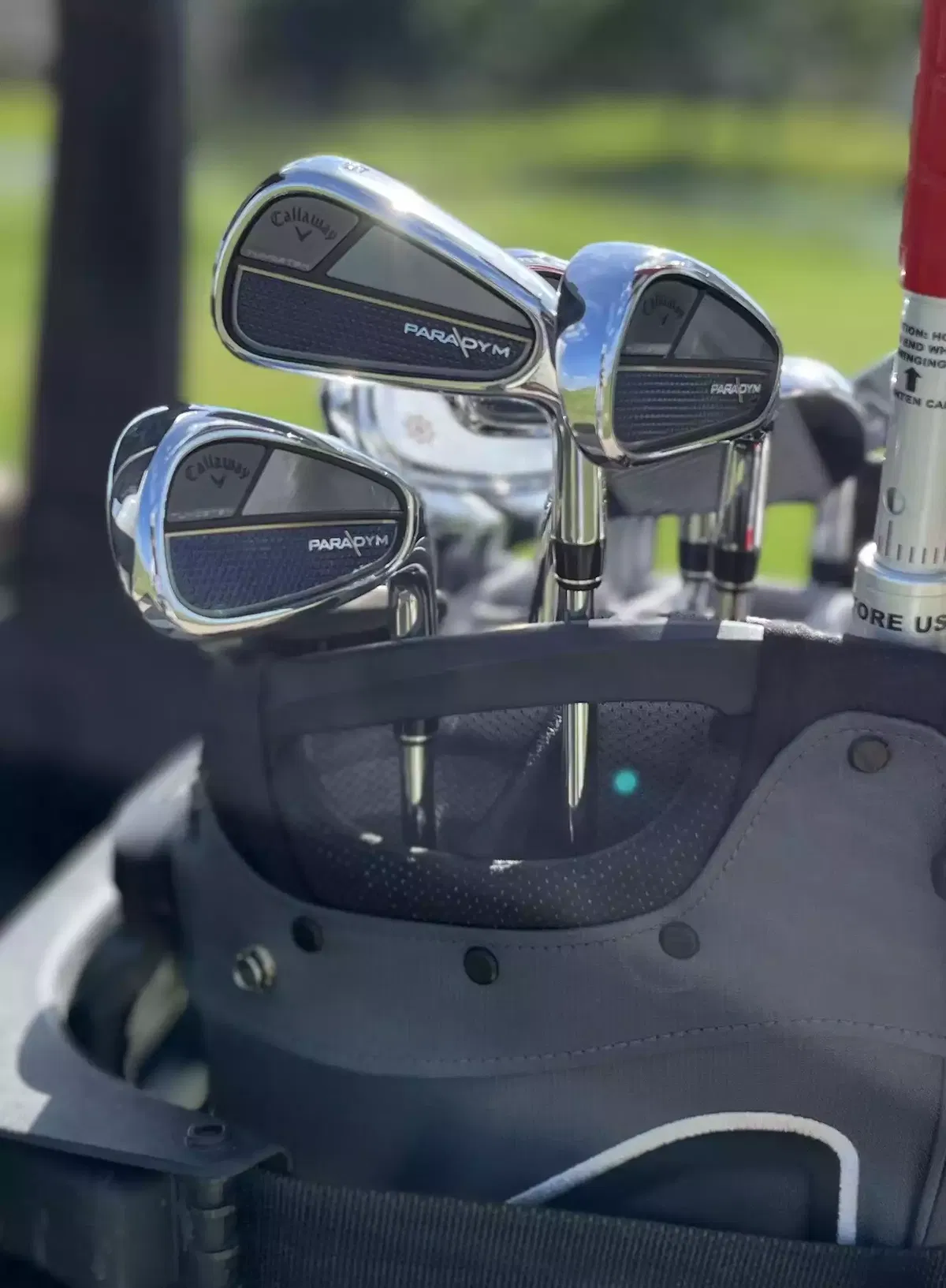 Callaway Paradym Irons Overview
The Paradyms are players' distance (or performance) irons. I think they best serve about 5 handicaps to 10ish handicaps.
They've got a healthy splash of forgiveness, jacked lofts, and good feel. You get the compact clubhead of a low-handicap iron and the added forgiveness and help with distance of a game improvement iron.
Callaway used –
A.I. design and high-strength forged 455 steel to create a thin face that flexes with contact for added speed (I can attest to about half a club in added distance relative to loft.)
Two pieces of tungsten (dual tungsten weighting) – up to 67 grams depending on the club – to optimize launch and ball speed for each individual iron.
Urethane microspheres for soft feel and premium sound
Why Consider the Paradyms
I like the Paradyms because you get a lot of the characteristics you look for in a "player iron" (compact head, less offset, premium sound, soft feel) and some of the characteristics of a game improvement iron (added forgiveness and help with distance and launch).
I was able to play my normal shot shape – a high baby draw – and I played many flighted shots too. They'll deliver the shot if you know how to dial it up.
Be warned, they're a little hard on the wallet.
Callaway Paradym Iron Specs
| | | | | |
| --- | --- | --- | --- | --- |
| Club | Loft | Lie Angle | Offset | Length |
| 4 | 20* | 61* | 3.81 mm | 38.875″ |
| 5 | 23* | 61.5* | 3.43 mm | 38.25″ |
| 6 | 26* | 62* | 3.05 mm | 37.625″ |
| 7 | 29* | 62.5* | 2.79 mm | 37″ |
| 8 | 33* | 63* | 2.54 mm | 36.5″ |
| 9 | 37* | 63.5* | 2.29 mm″ | 36″ |
| PW | 42* | 64* | 1.78 mm | 35.75″ |
Set Tested – 4-PW Men Right Hand
Shaft: True Temper Elevate MPH 95 Stiff Flex
Testing & My Experience with the Callaway Paradyms
I went straight to the driving range with the Paradyms (video of part of that session above).
I started with punch shots because I'd been out with minor surgery for a couple of weeks and was somewhat injured before that.
Anyway – I like to start with punch shots to get my contact and path where I want it to be. Pitching wedge, then 8-iron, then 6-iron. I want to hit at least 5 or 6 solid shots.
After that, I usually go with long irons – the 4 and 5 (never higher)- because I don't hit long irons well. So, I'm suitably impressed if I pull a long iron from a set I'm testing and I'm able to hit it well (or ok).
I was able to hit a few solid shots with the Paradym 4 and 5 iron. Not super accurate, but solid and in the general direction I was aiming. (This was the case during my round later that day too). This is all on me and my rust.
The ball jumped off the face for me, but the distance was consistent. No sudden 15-yard hot shots that you can't depend on.
I did not need great contact for good results. Slight mishits put me on or around the green during my round. They're about half a club longer (7-yards or so) than their loft, also.
Review of the Callaway Paradym Irons
Looks (B+) Good, not great cosmetics. I love the head shape and I like the blue color of the badge, but I'm not a fan of the overall design. The compact head and the way they set up are great, though.
Sound/ Feel (A) Solid, soft, and stable.
Distance (A) The ball jumps off the face. Center contact consistently got me about half a club more than the loft would suggest. (Yes, I know the lofts are jacked. I took that into account)
Forgiveness (A) Not tons, but all you want from a player performance iron. You'll get decent results from slight misses.
Flight / Playability (A+) I played my high baby draw mostly. But, flighting the ball down was not a problem.
Value (B) The Paradyms are ~$200 club. The High-End of player or player distance irons. They're good clubs and deliver on their promise, but this is still a lot of money.
Customer Reviews
94% of buyers would recommend the Paradyms to a friend out of 20ish reviews at callawaygolf.com.
There are no complaints about the club's performance. All complaints are related to manufacturing issues (early wear signs, clubhead popped off on a guy), shipping, etc.
Who are the Paradyms for?
Low handicaps (Yes, but) Callaway says they're good for 4 handicaps and higher – I agree.
Mid handicaps (Yes, but) Callaway says they're good for 12 handicaps down – I also agree.
High handicaps (No) Check out the Paradym Xs. (review coming soon)
Potential Alternatives
Click here for other Callaway Options or here to see ALL our reviewed irons.
Pros:

Unbelievably Soft & Solid Feel

Plenty Distance & Forgiveness

Premium Looks

Great price

Pros:

Easy launch & Explosive distance

Superb feel & Just enough forgiveness

Flight & Work the ball easily

Incredible price

Pros:

Long & Forgiving

Improved Sound & Feel

Stable, Accurate & Consistent

Pros:

Stellar Distance & Forgiveness

Great Feel

Flies High & Straight, but Workable

Gorgeous
Final Verdict – Callaway Paradym Irons Review
They're a more forgiving version of the Rogue St Pros from last year. Same compact size, but a thicker topline and sole.
They're long, forgiving, solid, consistent, and accurate.
Should you upgrade to the Paradyms if you own (and like) the Rogue ST Pros?
No, I don't think you should. I would stick with the ST Pros. They're great clubs and equal in performance.
My #1 suggestion is to test before you buy. Either at your local golf store or take advantage of Global Golf's Utry trial program. I use it and recommend it.
Thanks for checking out our Callaway Paradym irons review and let us know how they work for you
Highly Recommended