Thanks for checking out my Callaway Paradym Driver vs Paradym X comparison.
I'm an avid golfer, 8ish handicap on my way to a 2 (been a 5.6) and frequent tester of golf clubs and equipment since 2015.
I've had the Paradym and Stealth 2 drivers for a couple of months. I've played multiple rounds and done work on the driving range with them.
Summary: The Paradym & Paradym X drivers both offer explosive distance, superb sound & feel, and are the best-looking drivers of 2023 and in recent memory. The Paradym offers ample forgiveness and the Paradym X offers max forgiveness.
In this comparison of the Callaway Paradym and Paradym X drivers, I discuss my experience with each driver, unique features and benefits, and my suggestions on which you should buy.
Callaway Paradym Driver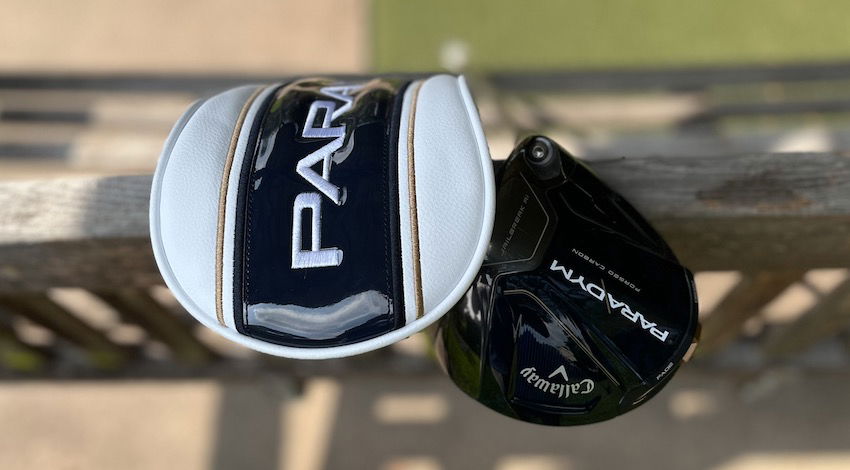 Loft – 10.5 degrees
Shaft – Project X HZRDUS Smoke iM10 Shaft, Stiff Flex
Callaway Paradym X Driver
Loft – 10.5 degrees
Shaft – Project X HZRDUS Smoke iM10 Shaft, Stiff Flex
Testing the Paradym & Paradym X Drivers
Most of my testing for both drivers came on the course. My range game is weak this year, but I'm able to piece together good driving days fairly often.
So, I go by fairways hit, distance off the tee, and playable drives that miss the fairway to get the best sense of drivers.
Both Paradym drivers excel in all these categories. But, the Paradym X is consistently longer when I miss the sweet spot…which is often.
Are there big differences between the Paradym & Paradym X drivers?
No, not big, but a couple. One, I'll talk about below.
The other is the movable weight on the rear of the sole of the Paradym so you can refine shot shape more.
Looks:
Both are my favorite looking driver of 2023 – and for the last few years. Head shape for both is classic Callaway. What I love is the dark blue color and accents on the crown and sole. They take on added depth when the sun hits them. Really innovative and several cuts above the competition.
The Paradym X head is bigger than the Paradym. But, it isn't bulky or offputting.
Sound/Feel:
They both have premium sound and feel. Among the best this year, if not the best.
Winner – Draw
Forgiveness:
The Paradym X gets the nod here. Specifically, it's hotter over a larger portion of the face.
Winner – Draw
Distance:
Identical on center contact. The Paradym X is longer when you miss the sweet spot.
Winner – Paradym X (on mishits)
Value:
Callaway Paradym: $599.99
Paradym X: $599.99
Winner – Draw
Final Verdict on the Callaway Paradym Driver vs Paradym X Comparison
Get the Paradym if want a driver with good forgiveness and more workability.
Get the Paradym X if you want a driver with max forgiveness and workability isn't a priority.
Which driver would I get if I were coming out of my pocket?
Callaway Paradym X…It's more forgiving and I'm not trying to do much with my driver besides hit it hard and get good shots into the green.

My #1 suggestion is to test both clubs before you buy. Either at your local golf store or take advantage of Global Golf's Utry trial program. I use it and recommend it.
Thanks for checking out my Callaway Paradym driver vs Paradym X driver comparison.
Pros:

Premium Distance & Forgiveness

Excellent Sound & Feel

Best Looking Driver of the Year(s)

Pros:

Flat Out Gorgeous

Superb Sound & Feel

Solid, Long & Forgiving
Highly Recommended
Pros:
Premium Distance & Forgiveness

Excellent Sound & Feel

Best Looking Driver of the Year(s)
Highly Recommended
Pros:
Flat Out Gorgeous

Superb Sound & Feel

Solid, Long & Forgiving