This is Golfer Geeks' Stix golf clubs review.
I'm an avid golfer, 8ish handicap on my way to a 2 (been a 5.6) and frequent tester of golf clubs and equipment since 2015.
I had one range session and one round (so far) with Stix Golf clubs and golf bag.
Summary: Stix Golf makes better quality golf clubs sets for beginners at a fair price.
In this review of Stix golf clubs and golf bag, I discuss my experience with the clubs, unique features and benefits, and our recommendations.
Best Complete Set Golf Clubs
Stix Golf Clubs
Pros:
Premium Golf Bag

Complete 14-Club Set

Beautiful Black Matt Finish

Great for Beginners & High Handicaps
Cons:
Lack premium refinement

Grips can be slippery
Shop Stix Golf
We earn a commission if you make a purchase, at no additional cost to you.
Overview of Stix Golf Clubs & Why You Should Consider Them
You can buy Stix wedges, a Stix putter, Stix irons, Stix woods, or a Stix golf bag.
Or…
You can buy an entire 14-club matching set for about $1000 and hit the course knowing you have a solid set of clubs for your round.
I'm a low-handicap golfer and I had serious concerns about whether or not I could play these clubs. Well, I played them and I shot an 83.
I think these are a great starter set or a good set of clubs if you don't want to break the bank and just want a solid set of clubs you know are made well.
Every club in this bag wants to go straight.
Even long irons get up well with good carry and distance. (I'm not a strong long iron player)
The fairway woods are surprisingly effective from the fairway.
The Driver has respectable distance and a draw bias perfect for the beginner or high handicap golfer.
Stix gears their golf clubs toward beginner golfers looking for a good starter set of clubs without breaking the bank or buying cheap knock-offs with premium manufacturer names superglued on to give the impression of premium quality.
They're also fine for high handicaps that have been at it for a while and just want good game-improvement clubs at a bargain price.
All clubs come with graphite shafts with 3 flex options (Active, Regular, Stiff). The irons and wedges come in black or silver and shaft length can be customized in half-inch increments; up to 1 inch longer or 1 inch shorter.
They sell a number of set combos as well as individual clubs.
Stix Golf Clubs – First Impressions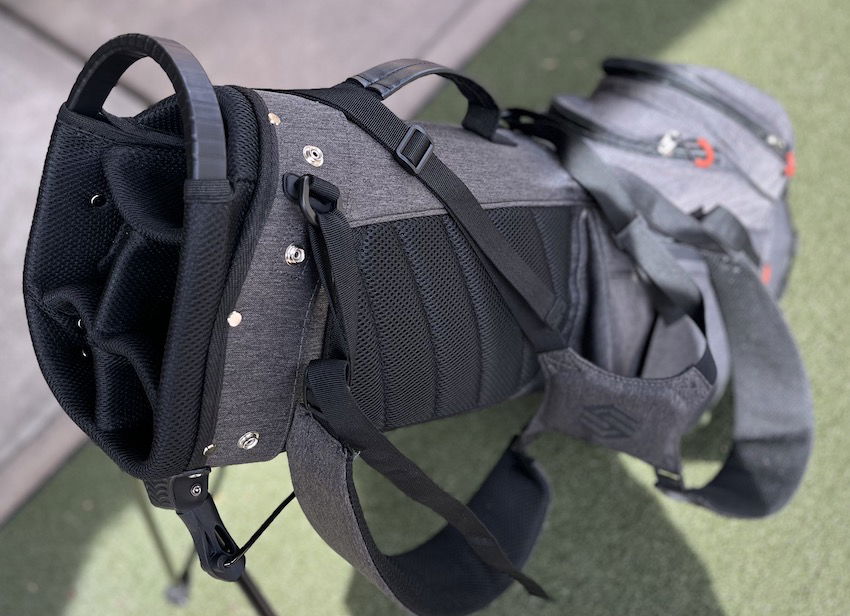 I ordered the golf bag and a complete set of Stix golf clubs in their black color. They arrived in one box – the clubs are in the golf bag and the clubheads are in protective wrap. The headcovers come in their own bag which is stowed in a side pocket.
So, the golf bag is the first thing that made an impression on me. That impression…quality.
It's charcoal gray with orange semi-hoop zip pulls. An elegant minimalist design, nothing flashy. It has a 5-way top and two full-length dividers – not my favorite configuration. I prefer individual full-length club slots. Still, this is a popular golf bag configuration and the Stix bag is as good as most I've seen.
I think you could easily see a bag of this quality go for ~$150 to $200 bucks or so. (It's $250 on the Stix website). It's got 5 zippered pockets and a drink or bottle holder pocket. The zippers and zip pulls are high quality. The pockets are generous and constructed well. A rain cover is included and it's in the large side pocket on the right side of the bag.
The headcovers are the only sour note in this review. Yes, they're different and minimalist and they look boutique. But…they're not very functional. They're hard to put on and take off and they fit on the clubs funny.
Except for the putter headcover. Looks good, fits well, and closes well because it uses a strong magnet.
Note – All clubs in this set – including the putter – have black graphite shafts and black grips. The grips (other than the putter) remind me of Golf Prides Tour Velvet grips, but they aren't and I'm not sure who makes them.
The irons have game-improvement-size heads – large. But, they aren't bulky or gimmicky-looking. The topline and sole are thick and they have plenty of offset.
They're black and don't have much in the way of markings or design elements. Even the club number is hard to find. There's only a stamp on the toe of the club and it's the same black color as the rest of the club.
They should appeal to their target market – high handicappers. The mat black color looks good on them.
The wedges are a different story. They're also black with no markings other than the Stix logo stamped on the back and a red scoring line. But they are on the smallish side and might even be a little much for high handicappers. (their target audience) I find them the perfect size. (They're the same size as my Hogan wedges)
The fairway woods are game improvement size like the irons. They sit a little closed at address – the 3-wood more than the 5-wood. They have a single orange dot on the mat black crown to mark the center of the head.
The hybrid is the size of most hybrids you'll find on the market except for low handicap options. The crown is mat black with an orange alignment dot close to the face. It sits closed, but not overly so.
The driver is 460cc with the mat black crown and the orange alignment dot near the face. It's probably the most closed-looking driver at address I've seen.
The putter has an orange scoring line in the center of a small mallet head with the Stix logo behind the scoring line. It's got a comfortable fat black pistol grip and black graphite shaft like the rest of the set.
Stix Golf Clubs Specs
| Club | Loft | Length |
| --- | --- | --- |
| Driver | 10.5* | 44″ |
| 3-Wood | 16* | 42″ |
| 5-Wood | 19* | 43″ |
| 4-Hybrid | 21* | 40″ |
| Club | Loft | Length | Lie |
| --- | --- | --- | --- |
| 5-iron | 22* | 38″ | 61* |
| 6-iron | 25* | 37.5″ | 61.5* |
| 7-iron | 28* | 37″ | 62* |
| 8-iron | 33* | 36.5″ | 62.5* |
| 9-iron | 39* | 36″ | 63* |
| PW | 45* | 35.5″ | 63.5* |
| GW | 52* | 35.5″ | 64* |
| SW | 56* | 35.25″ | 64* |
| LW | 60* | 35″ | 64* |
My Experience with Stix Golf Clubs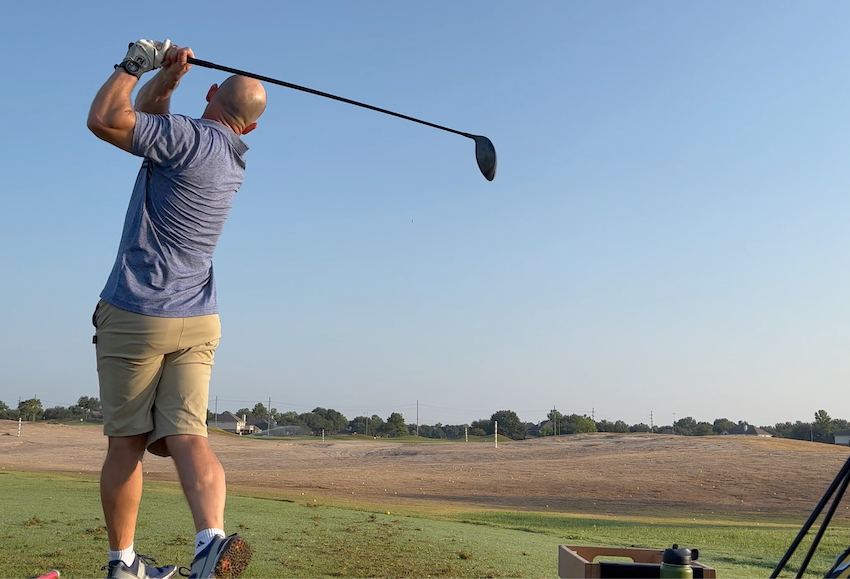 One word – Surprised. I did NOT think Stix clubs would be playable for me.
The irons:
I'm not so bothered by big clubheads – I test a lot of clubs. But, I'm no fan of light shafts that feel whippy in any way.
I play heavy steel stiff shafts in my irons and I can easily play X-stiff shafts because of my swing speed and the way I swing.
Stix only has graphite shafts and I didn't trust them to be heavy enough or stiff enough. Technically, the shafts aren't stiff enough.
But…they weren't whippy and all I had to do was go about ¾ speed and concentrate on swinging smooth.
When I did that, the ball took off high and straight and held its line in some pretty good Summer Texas wind.
Again and again, I fired at and hit my targets with Stix irons. On the range, and, more importantly, on the course. I shot an 83 in my first and only round with them. I would have been in the 70s if I had any kind of short game.
I did try to stand on a couple of irons because I was going into the wind and I wanted to stretch them out a little.
Mistake. These clubs can't handle me going after them. But, that's ok.
I'm not the target audience for these clubs and I did just fine going with my swing ¾ swings. In fact, I birdied my first ever hole with them.
The driver:
I got around ok with the driver, but I have to be honest. It sits very closed address and that plays tricks on my eyes and with my stance. But, again, I'm not the target audience for this club.
It's got plenty of pop and does its level best to keep you from going right off the tee. I think it's a great driver for beginners and high-handicaps alike with slower swing speed.
The fairway woods:
The 3-wood is sits noticeably closed at address and the 5-wood less so. They're relatively easy to hit out of the fairway and they want to go straight and high. But, I had to remember to swing easy and not go after it when I teed it up. (Not easy for me)
I ended up hitting balloon balls and couldn't understand why the 3 wood kept only going around 200-220ish yards. Now I know.
4-hybrid:
I hit a couple of shots with the 4-hybrid with decent results during my round. I hit it fairly well during my range session. Good club suitable for high handicaps.
The wedges:
I think the only wedge I didn't use during my round was the 60-degree lob. I used the gap wedges, sand wedge, and pitching wedge on full shots and around the green for chips and pitches.
They all look great at address and have smallish clubheads – the way I prefer and the types of wedges I have played for decades now. They're not finesse clubs, but they are competent around the greens. I think I would have been more comfortable with different shafts.
They are all solid on full and partial shots.
The putter:
I like the heft of the putter and I love the grip. I'd need some time to get used to the way it sets up and aligns. That's a personal preference thing. I think it's a good putter and it feels good with center contact.
My round with Stix Clubs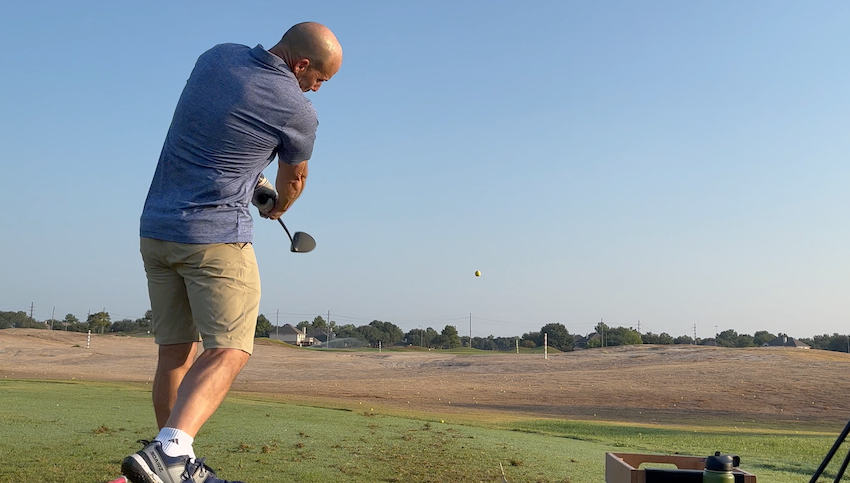 I pulled the driver on the opening par 4. I pushed it just right of the fairway about 277 yards. I had about 157 to the pin and I had to go over a greenside bunker. That's normally my 8-iron which is 38 degrees. But, Stix irons are about 3-degrees stronger than my everyday set. So, I pulled the 9-iron. (it's 39 degrees)
I made good contact and hit the ball high and straight with maybe a touch of my normal draw. I finished about 15 feet from the pin. I pulled the Stix putter and dropped it in for an opening birdy.
I don't generally do that with my clubs that were fit for me. Happy…I'll add "happy" to surprised.
It took me a couple holes to figure out how to swing the driver, but my misses weren't overly penalizing and I ended up with decent shots into the green.
The rest of the round kind of repeated my experience on the first hole, minus the birdie. I was in the fairway or just off of it. Then, I was on the green or around it most of the round.
My chipping and pitching were suspect, and my putting wasn't a whole lot better. I scored about as bad as I could have scored that day.
Stix Golf Clubs Review
Disclaimer – I am over black clubs and I like compact clubheads. These aren't bad-looking clubs by any stretch, they're just not my favorite.
Looks
Irons (B) These are your clubs if you like a black mat finish. Also, if you need the confidence that looking down at game-improvement clubs brings. I freely admit they're cool-looking, but I like compact clubheads.
Woods & Driver (B) Again, the mat black finish is nice. But, I like compact clubheads on my fairway woods and I like my clubheads to sit square at address.
Wedges (B+) I like the shape and size of these clubheads. (see "Disclaimer" for the rest)
Putter (B) Not bad. It looks fine, but it isn't my favorite.
Playability
Irons (A) They hit the target and their target audience. They want to go straight and high and you don't need great contact to get around the course.
Woods & Driver (A) Great choice for the beginner or high handicapper. The driver fights to keep you in play and helps with distance. The fairway woods are also forgiving and have decent pop.
Wedges (C+) I think they missed their target audience with these. They're more mid and even low handicap friendly wedges. There are more forgiving wedges on the market.
Putter (A) I think this is a solid putter for a beginner to learn on or for a high handicapper to grow with. Feels great and feels high quality.
Value (A)
A nice option at ~$71 to $83 / club depending on how many clubs you buy. That's about $50/club cheaper than major manufacturers charge per club for game improvement irons.
Customer Reviews
Stix Golf has collected (as of this writing) 2710 reviews. 76% are 5-star and 12% are 4-star.
FAQs
Where is Stix Golf based out of?
Stix Golf is based out of Elgin, Illinois. 
Do Stix clubs come with headcovers?
Yes, Stix clubs do come with headcovers. The driver, fairway woods, and hybrid each have a headcover.
How do you clean Stix clubs?
Clean Stix clubs with warm soap and water and a nylon brush or wash rag. 
Final Verdict on our Stix Golf Clubs Review
Stix Golf clubs are a good choice for beginner because you can get an entire 14-club set from putter to driver for about $71/ club.
I think you could easily drop the gap and lob wedge to take it down to 12 clubs and you'd be good to go too.
I also like them for high handicappers that enjoy playing golf and try to play well, but don't necessarily work hard on their game or expect to get much better. These clubs should work great for you and won't empty your wallet while doing it.
Thank you for reading our Stix golf clubs review. Let us know if you took the plunge and how you like them.
Best Complete Set Golf Clubs
Stix Golf Clubs
Pros:
Premium Golf Bag

Complete 14-Club Set

Beautiful Black Matt Finish

Great for Beginners & High Handicaps
Cons:
Lack premium refinement

Grips can be slippery
Shop Stix Golf
We earn a commission if you make a purchase, at no additional cost to you.