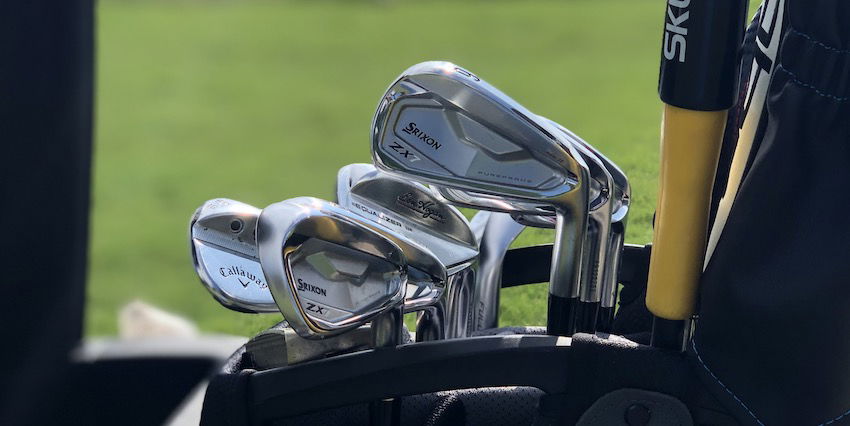 This is Golfer Geeks' Srixon ZX7 MK 2 Irons review.
I'm an avid golfer, 8ish handicap on my way to a 2 (been a 5.6) and frequent tester of golf clubs and equipment since 2015.
I played one round of golf, had one range session, and a session on my mat at home with the ZX7 MK 2s. I tested the Srixon ZX5 MK 2s at the same time. (Also one range session and 1 round of golf)
Summary: Srixon ZX7 MK 2 irons are exactly as advertised: Long, forgiving, accurate, consistent, great feel, and premium looks. All at the best price in the player iron category.
In this review of the Srixon ZX7 MK 2 irons, I discuss my experience with the clubs, unique features and benefits, as well as customer reviews and potential alternatives.
Highly Recommended
Srixon ZX7 MK 2 Irons Overview
Srixon labels the new ZX7 MK2s as player irons. I agree with that, but I think they're playable for upper single-digit handicaps too.
Here are a few of the features of the ZX7 MK 2s that translate into benefits for us.
Pureframe

Srixon added more weight behind the sweet spot to improve feel but maintain workability.

Tour V.T. Sole

There's more bounce throughout the set for added forgiveness on shots hit slightly fat.

Progressive Grooves

Srixon says wider grooves provide more control in the 3i-7i. And, deeper closer grooves in 8i-AW give more spin control for more accurate shots. There's laser milling between grooves on all irons for more friction.
Why Consider the ZX7 MK 2s
You get all the benefits and premium feel you expect in better player irons now in a more compact eye-pleasing clubhead. Add in that they're about $14 cheaper per club than the competition and you can't beat the value.
Set Tested – ZX7 MK II 4-PW Men Right Hand
Shaft: Nippon N.S. Pro Modus 3 Tour 120 Steel Stiff Flex
Srixon ZX7 MK2 Iron Specs
| | | | | |
| --- | --- | --- | --- | --- |
| Club | Loft | Lie Angle | Offset | Length |
| 4 | 22* | 60.5* | 3.3 mm | 38.5″ |
| 5 | 25* | 61* | 3.2 mm | 38″ |
| 6 | 28* | 61.5* | 3.0 mm | 37.5″ |
| 7 | 32* | 62* | 2.8 mm | 37″ |
| 8 | 36* | 62.5* | 2.4 mm | 36.5″ |
| 9 | 41* | 63* | 2.0 mm″ | 36″ |
| PW | 46* | 63.5* | 1.7 mm | 35.5″ |
Testing the ZX7 MK 2 Irons
I tested the ZX7 MK 2s on the range, on my home mat, and on the course.
I had them two weeks, but I was injured for the first of those weeks. I messed up my back pretty much the day I got them in.
I managed to get good work in with them after I made a full recovery.
My Experience with the Srixon ZX7 MK 2s
They feel solid and stable through impact and want to fly high and straight. I play a slight draw, so they did that for me.
The great part is I didn't need perfect contact to get good results. The MK 2s are some of the least punishing player irons I've tested. But, they absolutely sing when you flush them.
Though the lofts are stronger than my everyday set, I had little trouble pulling clubs and being on or around the greens.
My only regret is not having more time with them once I was healthy. (I may ask to get them back)
Review of the Srixon ZX7 MK 2 Irons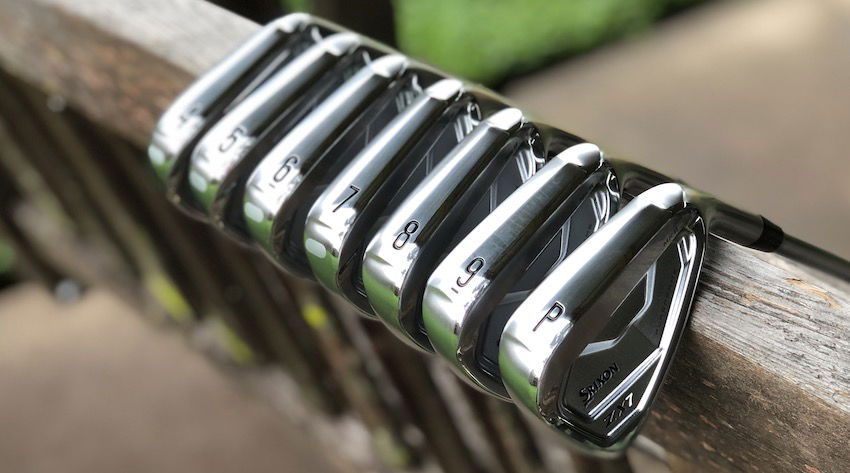 Looks (A) The MK IIs retained the minimal clean design of the ZX7s and changed the color of the "ZX" on the head from red to black. Very similar otherwise. They took care of my one grip for the ZX7s too – the head is more compact this year.
Sound/ Feel (A) Nice and solid at impact with zero harshness. Only behind the Mizuno Hot Metals and Forged irons.
Distance (A) Plenty long. And, they shine of slight mishits.
Forgiveness (A+) Again, they shine on mishits and are super-solid at impact. Very playable player irons
Flight / Playability (A+) They can do anything your skill allows. High – low – flighted – shaped – take off distance. Great for scoring, accurate, and consistent.
Value (A+) The MK 2s are ~$171/ club. The player irons I've tested this year are ~$187/club.
Customer Reviews
96% of buyers would recommend the ZX7 MK IIs to a friend. 29 reviews total on the Srixon website with a 4.8 average.
There are two negative reviews: One is because there's no gap wedge for lefties. The other was because they didn't get the discount they thought they were promised.
Who are the ZX7 MK 2s for?
Low handicaps (Yep) Superb in every way and with more compact heads this year.
Mid handicaps (Yes…) I'd suggest for 10-handicaps on down. (always pays to test for yourself)
High handicaps (No) Check out the ZX4 MK 2s. They're right up your alley.
Potential Alternatives
Check out the display below, or you can head here to see our other player iron options.
Pros:

Long & Forgiving

Improved Sound & Feel

Stable, Accurate & Consistent

Pros:

Best Feel in Golf

Superb Distance & Forgiveness

Gorgeous

Reasonable Price

Pros:

Long & Forgiving

Great Sound & Feel

Easy to elevate & great trajectory
Highly Recommended
Pros:
Long & Forgiving

Improved Sound & Feel

Stable, Accurate & Consistent
Editor's Pick - Best Feel
Pros:
Best Feel in Golf

Superb Distance & Forgiveness

Gorgeous

Reasonable Price
Highly Recommended
Pros:
Long & Forgiving

Great Sound & Feel

Easy to elevate & great trajectory
Our Verdict on Srixon ZX7 MK 2 Irons
The Srixon ZX7 MK 2s do everything well, and a few things very well. They are exceptional player irons with loads of forgiveness compared to others in the low-handicap category.
I think the MK IIs hit every mark they were trying to hit and for less money than their competitors.
Should you upgrade from your ZX7s to the ZX7 MK 2s?
No, I don't suggest that. They're an improvement, but not that much.
My #1 suggestion is to test before you buy. Either at your local golf store or take advantage of Global Golf's Utry trial program. I use it and recommend it.
Thanks for checking out our Srixon ZX7 MK 2 irons review and let us know how they work for you
Highly Recommended