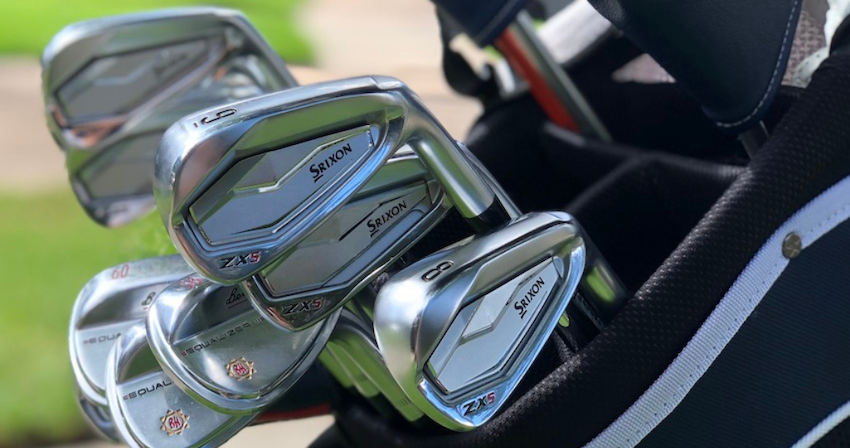 This is Golfer Geeks' review of the Srixon ZX5 Irons.
I'm an avid golfer, a 9.2 7 handicap on my way to a 2 (been a 5.6) and frequent tester of golf clubs and equipment since 2015.
I played one round of golf and had two range session with the ZX5s. I tested the Srixon ZX7s at the same time. (Same range sessions and a round of golf with them)
Summary: Srixon ZX5 irons are long, accurate, forgiving, workable, flightable, and easily hitable. They are player irons for aspiring players – or – players looking for more distance and forgiveness. Seriously, they perform exactly how you want low handicap irons to perform, but with perks.
In this Srixon ZX5 irons review, I discuss my experience with the clubs, unique features and benefits, as well as customer reviews and potential alternatives.
Srixon ZX5 Irons Overview
Srixon ZX5s are the more forgiving and longer little brothers of the ZX7 irons (the one Brookes Koepka uses). They are forged cavity back performance player irons. The last part just means they have strong lofts for extra distance and are more forgiving.
They are made to have outstanding feel with all the player characteristics you want in a low handicap iron.
Why Consider the ZX5s
You get every benefit you expect/demand from a low handicap iron, plus more forgiveness than any other in the category.
Great sound and feel
Stable at impact for better accuracy
Distance control
Powerful ball flight and green holding.
They're not automatic, but they're closer to it than most.
Features & Benefits
1) Mainframe
Higher COR thanks to the milled pattern on the backside of the face
2) Progressive Grooves
The 8-iron through pitching wedge have more aggressive grooves for more spin and stopping power for green holding
3) Tour V.T. Sole
Designed to cut through the turf smoothly for better results with imperfect contact. ( I can attest to this)
4) Multi-piece Construction
They've added tungsten in the toe section of the 3-iron through 7-iron to increase the MOI (think forgiveness) for added stability through impact. And, they use 1020 carbon steel in the body to absorb vibrations for softer feel. (All things I experienced during play)
Testing the ZX5 Irons
I got the ZX5s out on the range twice and on the course once. With great irons, it doesn't take long to figure out they're good to go. Mishits tell me more than center strikes. I hit a high tight draw with pretty much any iron when I flush it. The ZX5s shine with slight mishits, slightly fat and towards the toe, in my case.
My shots flew toward my target for my entire round. I was on the green or around the pin with good contact, and just short of the green or short of the pin when I hit it fat.
My Experience with the Srixon ZX5s
I wasn't quite as sharp during my round with the ZX5s, but I was all around the green if I wasn't on it, and I scored well.
They felt and performed pretty much exactly like the ZX7s. They are longer because their lofts are 2-3 degrees stronger per club, except the gap wedge – which is 1 degree stronger.
They're stable through impact and give you more from slight mishits than any other player iron besides the ZX7s.
They're easy to hit and elevate
Easy to work
Easy to flight
Easy to take off distance
Anything you want, they can do.
The only drawback isn't related to performance. The clubheads are big for player irons, but nothing crazy. This is called nit-picking.
To be clear…
They're not big…they're not gaudy…just a little bigger than I'm used to seeing from the player irons I've tested before.
Review of the Srixon ZX5 Irons
Looks (A)
They're beautiful clubs; among the best looking in golf. It's hard to tell these apart from the ZX7s from more than a few feet away. I guess that was intentional.
The heads are on the larger side for legit player irons, but not large. I love the minimal design and clean lines. They set up beautifully behind the ball at address.
Sound/ Feel (A)
Superb, just like the ZX7s. Soft click and muted sound at impact. My strong preference
Distance (A+)
These irons are long but still fly plenty high to hold any green.
Forgiveness (A+)
What sets the ZX5s apart. They're awesome with center contact but plenty good with slight mishits.
Flight / Playability (A+)
Just like the ZX7s. You can play any shot in your arsenal or just hit them high and straight.
Customer Reviews
98% of buyers would recommend the ZX5s to a friend. 52 reviews total on the Srixon website with an average of 4.9.
Who are the ZX5s for?
Low handicaps (Yes) They do everything you want, but easier. Large clubheads may be a turn-off. Check here for other options.
Mid handicaps (Yes) I think 12s and below could handle them.
High handicaps (Maybe) I say start with the ZX4s.
As always – TEST so you know. No need to guess.
Potential Alternatives
Our Verdict on Srixon ZX5 Irons
I loved playing with the ZX5s and I could put them in play tomorrow and be confident I would score well. They're all you could ask from a player iron with added forgiveness and distance – exactly what Srixon designed them to be.
My #1 suggestion is to test before you buy. Either at your local golf store or take advantage of Global Golf's Utry trial program. I use it and recommend it.
Thanks for checking out our Srixon ZX5 irons review and let us know how they work for you.
FAQs