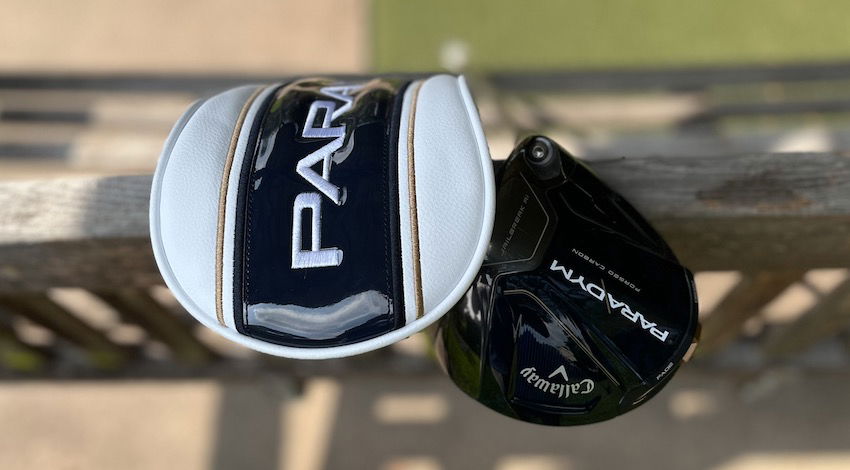 This is Golfer Geeks' Callaway Paradym driver review.
I'm an avid golfer, an 8ish handicap on my way to a 2 (been a 5.6), and frequent tester of golf clubs and equipment since 2015.
I tested the Paradym during multiple rounds on the course and just a splash of range work before the rounds.
Summary – The Paradym driver does everything well and looks awesome while doing it. It's got ample forgiveness and distance and superb sound & feel. It's the best-looking driver on the market this year and the best-looking driver in recent memory.
In this review of the Callaway Paradym driver, I discuss my experience with the clubs, unique features and benefits, as well as customer reviews and potential alternatives.
Callaway Paradym Driver Overview & Why you should Consider It.
They've tweaked the shape and added a sole weight to help tune ball flight.
Callaway says the Paradym is designed for players of all skill levels. So, a good amount of forgiveness, help with distance, and adjustability. It's made to launch high with low spin.
I find it has similar forgiveness to the Rouge St Max from last year, but is a hotter club. I'm a broken record on this, but the updated cosmetics are exceptional.
Paradym Playing Characteristics (according to Callaway):
Mid-High launch
Low spin
Neutral flight bias (adjustable)
460cc head
Adjustable
Paradym Driver Specs: Driver tested
Loft – 10.5 degrees
Shaft – Project X HZRDUS Smoke iM10 Shaft, Stiff Flex
My Experience with the Paradym Driver from Callaway
My first drive out of the gate was straight and went 285 yards right into the middle of a bunker I didn't expect to reach (on a cool April morning). I had minimal time on the range before the round, so I was suitably impressed by this drive.
The next couple of drives found the fairway too. Both left center of the fairway with good looks into the green. I didn't find every fairway (50%), but I didn't miss by much when I missed and I nearly always had a nice look for my second shot.
Really, this is all I ask of any driver I play ever.
I've played a few rounds with the Paradym since then with similar results. My driver swing is still out of shape compared to last year, but the Paradym is one of the drivers I count on to save me from terrible rounds.
Review of the Callaway Paradym Driver
Looks (A+) The most premium of premium-looking driver I've seen in years. The head shape is great and I'm an absolute sucker for the shade of dark blue they use on the crown and sole. There's another layer of design best visible in sunlight. A subtle carbon weave is revealed on the crown and a cloud-like design shows on the sole.
Sound/ Feel (A) Stellar – almost as good as the Mavrik.
Forgiveness: (A) Ample. You've got to put a pretty bad swing on it to get punished.
Flight / Playability (A) Medium-high launch and trajectory for me.
Distance: (A) Excellent – I nailed a few 300 or so yard drives and a bunch 260ish and above during my rounds. My work on the range was much less impressive.
My driver swing is an absolute hodge-podge. I can put it together for rounds for the most part, but I have poor control on the range.
Customer Reviews
Customer Reviews: 98% of reviewers at callawaygolf.com would recommend to a friend.
Who's the Paradym driver for?
The Paradym fits any skill level pretty much.
Want even more forgiveness? Go for the Paradym X
Have elite swing speed and/or trouble keeping your trajectory down? Go for the Paradym Triple Diamond.
Low handicaps (Yes) – Unless…see above.
Mid handicaps (YES) – You should give it a try.
High handicaps (YES) – See above.
Potential Alternatives
Our Verdict on the Callaway Paradym Driver
Great combo of distance and forgiveness. Hotter than last year's Rogue ST Max. Exceptional looks – my images on this page don't do it justice.
Should you upgrade if you own the Rogue ST Max?
Probably not. Unless you're unhappy with it or you like getting a new driver every year. (see below)
My #1 suggestion is to test before you buy. Either at your local golf store or take advantage of Global Golf's Utry trial program. I use it and recommend it.
Thanks for checking out our Callaway Paradym driver review and let us know how they work for you