Thanks for checking out our review of the B. Draddy golf lifestyle apparel brand. (They do more than golf, but golf is the main thing.)
I'm an avid golfer, a 9.2 7 handicap on my way to a 2 (been a 5.6), a frequent wearer of golf clothes and tester of golf clubs and equipment since 2015.
I own 2 of their ridiculously nice polos and 2 pairs of their shorts – so far.
Summary – B.Draddy is an upscale lifestyle apparel brand that sells killer golf clothes, plus upscale casual clothes that can be worn most anywhere. They make some of the best, if not the best, fitting, feeling, and looking golf shirts and shorts I've ever worn. 
In this B. Draddy review, I cover my experience with the company, the quality of the products, and comparable alternative brands I think are worth a look.
What is B. Draddy?
B. Draddy is an upscale mens lifestyle apparel brand started in 2013 by Billy Draddy.
Billy worked at Timberland, Joseph Abboud, the Bobby Jones division of Hicky-Freeman, and for Ralph Lauren's Golf & Tennis division before becoming the Creative Director for Summit Golf Brands – which includes his own B. Draddy.
What does B. Draddy Sell?
Everything golf – polos, shorts, pants, outerwear (sweaters & vests). Plus sweats, button downs, t-shirts, etc. Check out their full selection here.
They're lite on accessories, but they do sell two: baseball caps (2 versions) and a belt.
What do B. Draddy clothes cost? Are they expensive?
Yes…they are.
I seek out high quality in everything I buy, but I'm a proud bargain hunter. Looking at the prices of upscale clothing like B. Draddy's is a shock to the system.
That being said, B. Draddy's superior quality is undeniable. You won't regret 'em once you get 'em. Also, they're an online retailer, so they're always offering Specials or Sales.
Their short sleeve polos will set you back about $120 and their shorts about $100. I live in Houston, so I'm most interested in these. Come Winter, I generally wear shorts and throw on a quarter zip over my polo to hit the course.
Their outerwear puts the "Up" in upscale. Words like "alpaca" and "cashmere" appear in the descriptions of a couple of their offerings, so expect to pay a premium on these. We're talking $300 to $600 or so. (I have the unique ability to stain nice clothes my first time wearing them, so I have no idea where I'd wear such things.)
They have non-alpaca and cashmere versions that will only set you back about $120 to $250 ish.
They have two versions of their golf shorts and they cost either $98 or $130. Like everything else B. Draddy, they're premium quality.
B. Draddy Polos
I own the two you see above. Fit, finish, looks, and feel are stellar. They look great on and off the course, which is exactly what they were designed to do. You've got a bunch of patterns and colors to choose from. So, variety is not an issue.
They're made of a polyester/spandex mix and are especially comfortable in warm weather.
B. Draddy Shorts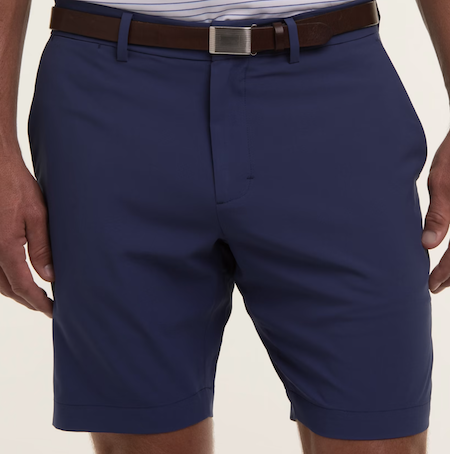 Yeah, I own those two you're looking at. They're both great looking, feeling, and fitting.
The blue one is super nice, light, and comfortable, and made of 100% polyester.
The one on the right (oyster-colored) – also comfortable, but heavier. It's made of cotton and tinsel twill. They remind me of the shorts I wore in the 90s and 2000's before lighter-weight fabrics broke onto the scene.
Verdict on B. Draddy
B. Draddy sells premium clothes at premium pricing. But…I got us a nice little 25% discount code to take out a little of the sting.
I haven't tried their outerwear yet, but it's on the way. I'll update here soon.
Thanks for checking out our B. Draddy review. Let me know if you try their stuff and what you think.