Thanks for checking out my Taylormade Stealth driver vs Stealth HD driver comparison.
I'm an avid golfer, a 9.2 handicap on my way to a 2 (been a 5.6) and frequent tester of golf clubs and equipment since 2015.
I tested the Taylormade Stealth driver during two range sessions. I own it now and swing it all the time.
I tested the Stealth HD (High Draw) during three range sessions and one round of golf.
In this comparison of the Taylormade Stealth and Stealth HD drivers, I discuss my experience with each driver, unique features and benefits, and my pick for which driver I'd buy.
Driver Specs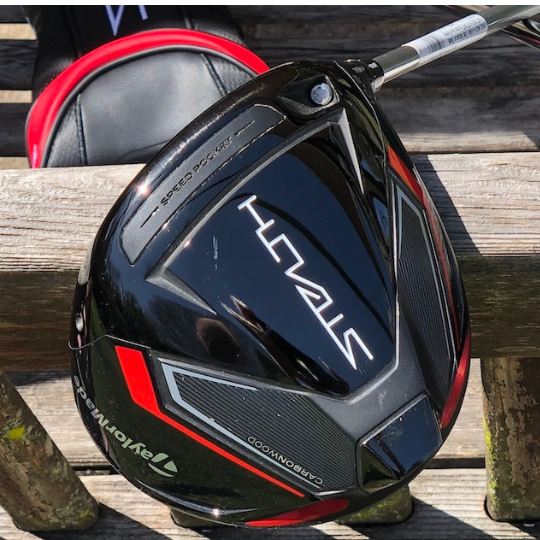 Loft – 10.5 degree
Shaft – Aldila Ascent Red 60 Graphite Stiff Flex
Stealth spin, launch, and flight characteristics
Mid-Low spin
Mid-High launch
Highest forgiveness
Neutral flight bias
Loft – 10.5 degree
Shaft – Fujikura Air Speeder 45 Graphite Stiff Flex
Stealth spin, launch, and flight characteristics
Mid spin
High launch
Highest forgiveness
Draw flight bias
Taylormade Stealth Driver
Taylormade says they've reached the limits of titanium faces in their woods. They've been working with carbon in the background for 20 years and now feature carbonwood face technology in all their woods for 2022 (and beyond).
Taylormade says their "60x Carbon Twist Face" is faster and more forgiving. They took a heap-big chance doing this and it appears to have paid off. They say they are sunsetting titanium face tech for their woods.
Stealth Features and Benefits
1) 60X Carbon Twist Face
Better energy transfer (Hotter face)
More forgiving
Increased effective hitting area by increasing the size of the face and clubhead
Increases accuracy & distance on off-center hits
Provides better feel on shots hit across the face
2) Asymmetric Inertial Generator
Better aerodynamics just before impact (where Taylormade says it's needed for increased clubhead speed)
Allows additional weight to be placed for higher MOI, optimal launch, better forgiveness
3) 44% Lighter Than Titanium
Position more mass lower in the clubhead for added forgiveness.
4) Nanotexture Cover & Polyurethane
Nanotexture creates face texture with more friction at impact
Polyurethane used to fine tune launch and spin, and optimize total distance
5) Premium Sound
Taylormade says sound is an important component in feel so they used curvature, shape, and internal stiffening ribs to dial in acoustics.
6) Asymmetric Inertia Generator
Designed to create better aerodynamics while moving more weight lower and toward the rear of the sole for higher MOI, better launch, and more forgiveness.
Taylormade Stealth HD Driver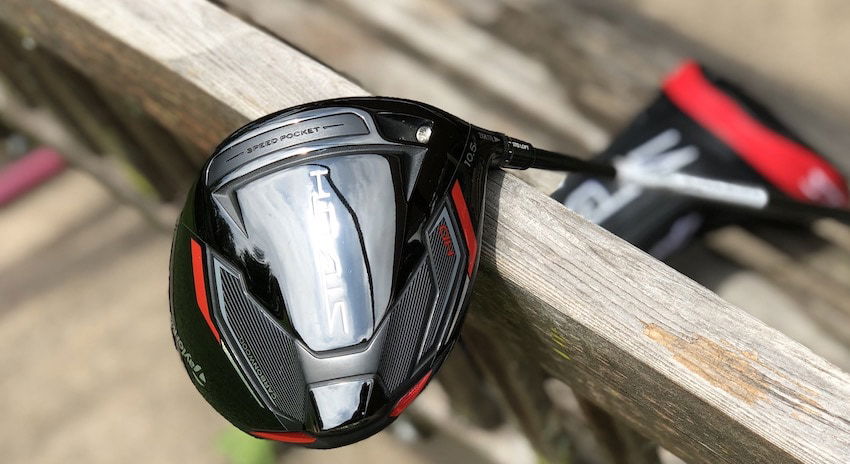 Stealth HD Features and Benefits
Everything mentioned for the Stealth, plus:
Increased Forgiveness & Draw-Biased Design
Taylormade made a driver with draw bias & increased forgiveness
Taylormade says that draw-biased drivers aren't traditionally as forgiving because of the higher CG needed to create draw spin.
I always assumed draw-biased drivers were more forgiving. Apparently not. I can tell you this: the Taylormade Stealth HD driver is plenty forgiving.
My impressions of the Stealth & Stealth HD
Stealth Hd – 3 Range sessions: The first two range sessions were ok, but nothing great. I found my stride a bit in the 3rd go around at the range.
1 round on the course: I used the Stealth HD for nine holes, then switched to the Stealth Plus. I drove great with the Stealth HD. So, no further r
It bares repeating, I'm a mediocre driver. Yet, I hit both of these drivers very well.
My driver swing was about as "on" as it gets for me when I tested the Stealth in March. (Spoiler alert if you haven't read my comparison of the Stealth vs SIM2 – I'd save the money and get the SIM2)
My swing wasn't as consistent when I tested the Stealth HD and I hit a lot of shots off the toe. Which is my standard miss. But, I repeatedly hit the ball long and found the short grass. I could easily play this driver and would happily own it.
Looks
Head shape: I love the head shape of Taylormade drivers and the new Stealths don't disappoint. It sites nicely on the turf, frames the ball beautifully, and gives me a sense of confidence looking down at address.
Color/Graphics: I like the flat black finish on the crown of the Stealth drivers at address. The simple Taylormade logo for ball alignment works well for me. The red face is a clear departure from typical wood face design, but it's not shocking or distracting. Sole graphics are underwhelming on ALL Stealth drivers
Winner: Draw (of course)
Sound/Feel
Among the best, if not the best, sound and feel of any driver I've tested. Muted and solid.
Winner: Draw
Playability/Ball Flight
Stealth/Stealth HD: I got long mid-high to high draws with my good swings and playable hooks and pushes with my bad swings.
There were fewer good swings during testing of the Stealth HD, so I got to test out ball flight and playability on a LOT of toed and thin strikes.  
Of note, I was able to hit a couple fades during my round with the HD, though unintentionally. 
Winner: Draw
Forgiveness
Both are very forgiving and fight to keep you playable. My swing was more consistent when testing the Stealth, so I found the sweet spot a lot more than with the Stealth HD.
I got waaaay better results than I deserved during my testing of the Stealth HD during my round.
Winner: Draw
Distance
I tested the Stealth at the end of March when it was 30 to 40 degrees cooler than it is now in Houston. My average carry distance (About 251 yds) was a solid 20 yards less than it is now according to my launch monitors.
It's steady mid 90s in Houston as I'm writing this (and continually testing clubs). I'm swinging faster and the ball is traveling far.
I don't believe there would be a difference when testing these drivers in identical weather conditions.
Winner: Draw
| | Carry Yards | Ball Speed | Swing Speed | Smash Factor |
| --- | --- | --- | --- | --- |
| Stealth HD | 270.75 | 156 | 106 | 1.44 |
Conclusion of Taylormade Stealth vs Stealth HD driver comparison
My #1 goal with driver is to get the ball in play and set up my next shot.
With that in mind:
These drivers are the same in my book.
The only difference I could see is you may have an easier time fading your drives with the Stealth vs the HD. Though, as mentioned above, I hit a couple fades during my round with the HD)
I'm a mediocre driver and both these drivers did their level-best to keep me playable on my poor swings.
And, as with all Stealth drivers I've tested:
When I was on, it was glorious.
When I was a little off, I still got good distance and a shot at the green.
When I was way off, I sometimes had a shot at the green and I sometimes had to punch out or take a penalty.
My #1 suggestion (ALWAYS) is to test both clubs before you buy. Either at your local golf store or take advantage of Global Golf's Utry trial program. I use it and recommend it. 
Pros:

Excellent Distance

Great Sound & Feel

Max Forgiveness

Great Looking

Pros:

Excellent Distance

Great Sound & Feel

Max Forgiveness

Great Looking

Description:

Get 8% OFF with Coupon Code: GolferGeek



Description:

Get 8% off with Coupon Code: GolferGeek
Best Driver of 2022
Pros:
Excellent Distance

Great Sound & Feel

Max Forgiveness

Great Looking
Description:
Get 8% OFF with Coupon Code: GolferGeek

Golfer Geeks Approved
Pros:
Excellent Distance

Great Sound & Feel

Max Forgiveness

Great Looking
Description:
Get 8% off with Coupon Code: GolferGeek