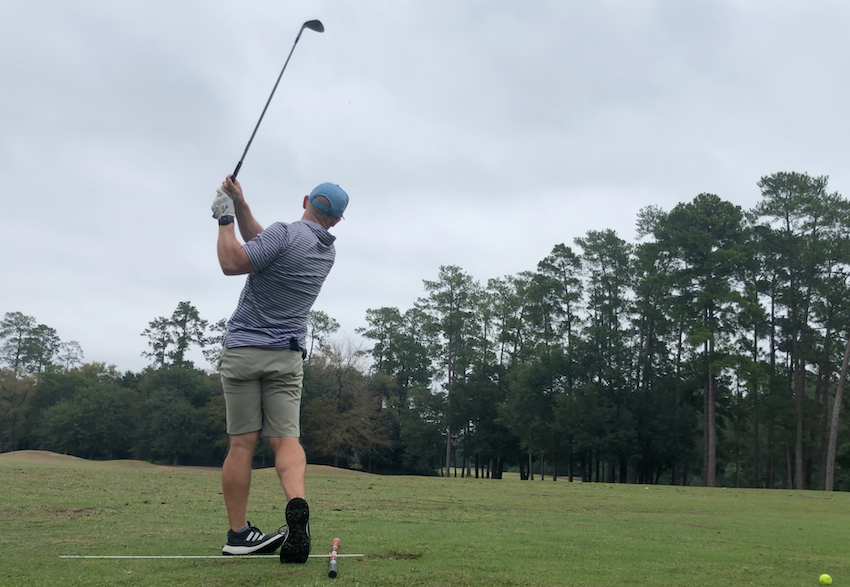 This is our review of the deWiz golf swing analyzer and modifier.
I'm an avid golfer, a 7ish handicap on my way to a 2 (been a 5.6) and frequent tester & reviewer of golf clubs and equipment since 2015.
Summary – Serious golfers willing to put in the work will get better. It's effective, intuitive, and you can go as deep into the numbers as you like. Few swing training aids deliver as thoroughly as the deWiz. Sticker shock will be your biggest obstacle.
In this deWiz golf review, I discuss my experience with the deWiz, its main benefits and features, and how to get the most out of your deWiz should you decide to take the plunge.
Editor's Pick - Golf Swing Analyzer
deWiz Overview
What gets measured gets improved.

Peter Drucker
The idea for the deWiz was hatched by Christian Bergh. Together with his then coach at Ljunghusen golf club, Markus Westerberg, they co-founded deWiz.
What does the deWiz do?
The deWiz watch analyzes your golf swing giving you key data points, then helps improve or modify your swing.
Swing Analyzer– It measures swing length, hand speed, tempo, and whether you are on plane, over the plane, or under the plane of your backswing at the start of your downswing. (It measures more, but these are the most important metrics)
Swing Modifier – It helps you improve your numbers by coaching you with real-time audio and physical feedback.
You set parameters within the app to notify you – either by sound and/or electric stimuli/shock/pulse – when you are outside of the parameters you set.
deWiz is the result of more than 50 000 hours of research, testing and development – and the quest to pioneer new ground continues. Our technology is based on research in motor learning, which is the neuroscience of how to permanently change a person's ability to perform a motor skill.

This scientific approach was then further tested and developed in collaboration with elite pro golfers, producing a revolutionary technology for golfers who are serious about improving their game.

source
Why consider the deWiz
Serious golfers willing to invest time and a decent chunk of money into their game can expect to see measurable improvements in the following areas.
More distance – it measures your backswing length, giving you a benchmark to improve upon.
Hit the ball straighter by helping you improve your downswing swing plane. It tells you if and how much you are coming over your backswing plane (or under) on your downswing.
Hit the ball closer by dialing in the length of your backswing for finesse wedge shots.
The deWiz measures important data points in your golf swing in real time and provides instant feedback when you're doing it wrong or right for the fastest learning possible.
Your swing is analyzed and measured in Real-Time
You get Instant Feedback – good and bad
Accelerated learning with industry-first Learning Stimuli
It's also backed by some of the most successful names in pro golf: Annika Sörenstam, Vijay Singh, Bryson DeChambeau and Henrik Stenson. Not to mention some big-name teaching pros.
That being said – you should skip the deWiz unless you are serious about your game. No, this isn't reverse psychology. It's too expensive to sit on a shelf and gather dust.
Editor's Pick - Golf Swing Analyzer
How to hit it longer with deWiz
In general, you'll hit the ball longer if you have a longer backswing. Assuming you have a decent swing and make decent contact.
Yes, it's possible to hit the ball far with a shorter or even short backswing (looking at you Tony Finau & Jon Rahm). But, even these two guys would hit the ball farther if they took longer backswings.
Getting started:
Put your deWiz on, open the deWiz app, and calibrate your deWiz. (The steps below are listed here on the deWiz website.)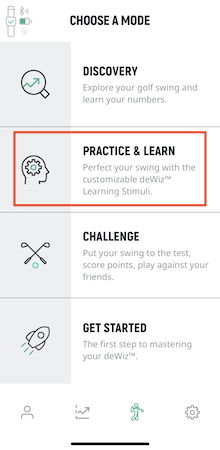 Step 1: Get your baseline numbers.
Choose "Practice & Learn" mode in the app and scroll until you come to "Practice Your Length of Backswing".
Choose "driver" for the club from the top menu.
Take about 5 full swings. (It stops me at 4)
You now have your average length of backswing and you can work to improve it.
Step 2: Deliberate Practice
Take 10 swings, trying to increase the length of your backswing by 2-4 inches or 5-10 cm.
Take another 5 swings going all out trying to increase your backswing length
Step 3: Turn on the Learning Stimuli
Go to "Practice Goals" menu item
Set your minimum distance to 2-4 inches / 5-10 cm longer than your baseline backswing length.
Enable learning stimuli and set to where it's just uncomfortable when triggered.
Start swinging.
How to hit it straighter with help of deWiz
Swinging too much over(slice) or under(hook) your backswing swing plane leads to excessive curving of the golf ball which makes it harder to hit your target.
deWiz precisely measures your backswing plane (plus a bunch of other data points) and tells you if your transition into your downswing is on, over, or under this plane.
With this data, you can go about the business of improving your transition number (if need be) so you can hit the ball straighter – finding more fairways and greens.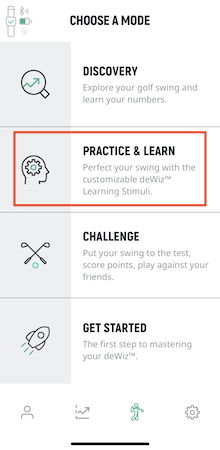 Step 1: Learn your numbers
Choose "Practice & Learn" mode
Scroll to "Practice Your Transition"
Choose a club from the menu at the top of your screen. (Your transition number with your driver will be different than your transition number with your wedge)
Take 5 full swings.
The average transition number from these swings is your benchmark.
Step 2: Deliberate Practice
Take your transition number and cut it in half. I use inches, so 1 inch becomes 1/2 inch. And so on.
Take 10 swings, trying to hit your new transition number.
Mark your good swings using the deWiz by pressing the button in the middle of the watch face. That swing will now be marked by a gold star.
Analyze your gold star swings to see how your better swings and ball flight correlate to your transition numbers.
Step 3: Turn on the Learning Stimuli
Go to "Practice Goals" menu item at the top of the screen and set your over-the-top parameter (half of your transition number). Turn off under-the-top margin. (I assume you're fighting a slice or push like most of us)
Turn on the learning stimuli in the top menu.
Take full swings until you're consistently swinging under your backswing plane and no longer receiving the learning stimuli.
How to hit it closer with help of deWiz
Getting good at partial wedge shots is the cheat code to lower scores in golf.
Using the deWiz, you will ingrain different backswing lengths – half swing, three quarter swing, and full swing, so you have a "go-to" swing from most any yardage.
I can tell you from experience, getting confident with partial wedges makes the game a WHOLE lot more fun.
Especially if you're a not-so-straight driver. Punching out or laying up and wedging it close takes a lot of stress off your game.
Here's how to sharpen your wedge game using deWiz.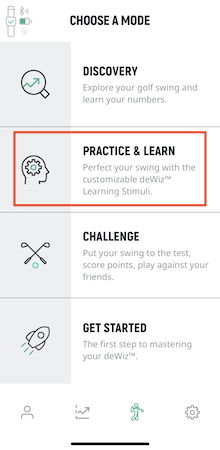 Step 1: Get started with Distwedges
Choose "Practice & Learn" mode then scroll to "Practice your Distwedges"
Choose "Practice Goals" menu item at the top and go to "Edit Gears" then choose "Gear Guide" option at the bottom
Hit the "Start Guide" button and follow the instructions. You'll be asked to hit 2 or 4 shots.
Step 2: Practice with the Learning Stimuli
Navigate to "Practice your DistWedges" and turn Learning Stimuli on to a level you're comfortable with
Set the tolerance to 2 inches / 5 cm
Set Distwedges to Manual of Shuffle (I use Shuffle)
Swing to the backswing length called out by the app
Step 3: Compete in the Dewiz Distwedges Challenge
Choose "Challenge" mode from the home screen, then choose "Dewiz Distwedges Challenge"
You'll be asked if you want to start or learn more about the goals of this mode. Choose either. Eventually, you'll end up start the challenge.
Once you do, you'll immediately be given a target backswing distance to hit.
And you're off
Editor's Pick - Golf Swing Analyzer
My Experience with deWiz & How I've Been Using it
I keep the deWiz charged and close by most anytime I hit the range or I hit my practice area on my back patio. It's the most convenient training aid I've used – which isn't a small thing.
It goes on my wrist like a watch and connects with the deWiz app easily. You can just throw it in a pocket in your golf bag and pull it out when ready.
I've had zero issues with connectivity or bugginess since I started using it a few months ago. This is very rare with electronics, especially so with a precise device like the deWiz.
My priority is accuracy. I want to start the ball on my line and have it end up somewhere around my target. To that end, I need to have my transition good to go and I want to dial in wedges.
I started working on my transition with the deWiz during the Summer in the middle of a bunch of club testing. I started hitting cut shots with my driver instead of straight or my preferred gentle draw.
I want an inside approach to the ball, and coming over the top in transition makes that a tad difficult.
I hate the idea of cutting across the ball instead of seeing a nice gentle draw. I also don't like giving up distance.
The deWiz confirmed my suspicion. I was consistently an inch and a half over my backswing plane.
The image you see here is of swings with my 8-iron.
Now it was time to fix my transition issue.
I flipped the learning stimuli on and set the parameter to .5 inches over the top and got my transition in a good place in one training session. I go back every now and again to measure and correct when necessary.
The second area I'm working on is partial swings and partial wedge shots.
Going to left arm parallel in my backswing, to be specific. This equals about 36 inches for me. I set the parameters in deWiz to plus or minus 2 inches and went to work.
I also started training 1/2 and 3/4 (partial) wedge shots.
I swung back to where I "felt" these positions were and used the deWiz to give me the corresponding numbers.
I did this for my pitching wedge, gap wedge, sand wedge, and lob wedge.
1/2 shots equal ~ 43 inches
3/4 shots equal ~ 48 inches
Full shots equal ~ 53 inches
Wedges, in particular, were a BIG weakness of mine for years. My large fear was (sometimes still is) chunking them, which I've done plenty of. So, I decided to hit a BUNCH of them in the last half of 2022.
The fear went away pretty quickly and I started looking forward to the opportunity to hit them.
My Wedge Carry Distances
Pitching Wedge
3/4 swing – 117
Full – 127
Gap Wedge
1/2 swing – 91 yds
3/4 swing – 104 yds
Full – 114 yds
Sand Wedge
1/2 swing – 84 yds
3/4 swing – 90 yds
Full – 100 yds
Lob Wedge
1/2 swing – 67 yds
3/4 swing – 79 yds
Full – 84 yds
These numbers are from perfect lies on my golf mat on my back patio. The holiday season and the weather have kept me from solidifying these on the course, but that's on the immediate agenda.
Markus Westerberg (Co-founder) stresses that having even one additional wedge swing apart from your full swing will immensely help your scoring.
I believe him. Just one more swing length will double the wedge distances available to you.
Who do I recommend deWiz for?
Low Handicappers – (Yes…Absolutely) deWiz can help you refine your game and shave off that last stroke or two…maybe more.
Mid Handicappers – (Yes)…once you shoot consistently in the high 80s, and low 90s. You have enough control of your swing to benefit from deWiz.
High Handicappers – (No) Not until you get to about a 20 or so handicap.
Final Verdict on our deWiz Golf Review
The deWiz delivers on its promise, but it ain't cheap.
It's a helpful tool to improve your game but it's not do-or-die.
So, skip it if you aren't dedicated to your game and/or you have to strain to afford it. (Ignore my advice if money is no object…Mr. Moneybags)
Thanks for checking out our deWiz golf review. I'd love to hear how it works for you if you pull the trigger. It is as legit as they come.
Editor's Pick - Golf Swing Analyzer